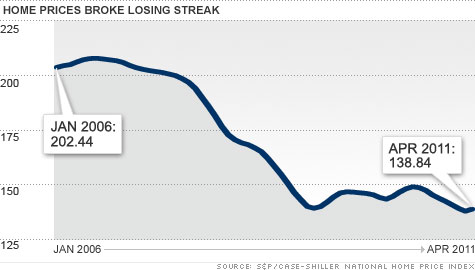 NEW YORK (CNNMoney) -- The downward cycle in home prices broke in April after eight consecutive months of decline, according to a survey released Tuesday.
According to the S&P/Case Shiller 20-city index, prices rose 0.7% compared with March, although they fell 0.1% when adjusted for the strong spring selling season. Prices were down 4% year-over-year.
"In a welcome shift from recent months, this month is better than last -- April's numbers beat March," said David Blitzer, S&P's spokesman, in a statement. "However, the seasonally adjusted numbers show that much of the improvement reflects the beginning of the spring-summer home buying season."
"It is much too early to tell if this is a turning point or simply due to some warmer weather," Blitzer added.
Any hint of good news in the troubled housing market will likely bring cheer to the industry, and there are some signs that market conditions are not quite as dire as some of the other statistics may indicate. Foreclosures, for example have been falling.
That has translated in a decline of 16% in the sales volume of distressed properties this year, while volume of non-distressed sales rose 11%, according to Joseph LaVorgna, chief economist for Deutsche Bank.
That's good news because much of the price drop over the past year can be blamed on severe price slashing for homes in foreclosure, as Federal Reserve chairman Ben Bernanke pointed out in a press conference last Wednesday. Prices for homes sold by regular sellers have held up much better.
"That suggests," said Bernanke, "if we can reduce the current number . . . maybe 40% of home sales, which are on a distressed basis, that would do a lot for stabilizing the market and helping give people confidence that they can buy and not be buying into a falling market."
Still, the fact that prices perked up in April is not necessarily something to write home about, said Mike Larson, a housing market analyst for Weiss Research.
"It happens every spring," he said "It's very clear there's a seasonal component. Even non-statisticians can see that. The report was, however, better news than what people were expecting."
Metropolitan Washington continued to be the strongest of the 20 cities covered by the report. Prices rose 3% in April there and have been on the plus side year-over-year, up 4%.
The worst performing market for the month was Detroit, where prices fell 2.9%. The biggest year-over-year drop was recorded by Minneapolis, where prices have plunged 11.1% since last April.
The big picture is that a housing market recovery has yet to gain any steam, according to Larson.
"We're not falling off a cliff anymore, but we're only going sideways," he said.
The year-over-year price comparisons could start to become more favorable, according to LaVorgna. For many months, price changes have looked worse than they might actually have been because they were being compared to months when the home buyer tax credit was in effect, which boosted prices.
"[W]ith the homebuyer tax credit having expired in June 2010, we will soon be getting "clean" housing data unencumbered by artificial distortion," he said.