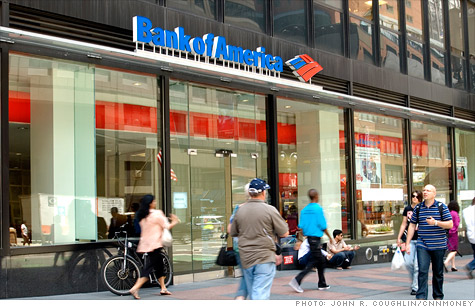 Bank of America agreed to pay $8.5 billion to settle claims against mortgage-backed securities
NEW YORK (CNNMoney) -- In the biggest reckoning of the 2008 financial crisis, Bank of America said Wednesday it will pay $8.5 billion to investors burned by fraudulent mortgage securities.
Shares of Bank of America (BAC, Fortune 500) rose 2.5% in morning trading. The settlement lifted other bank stocks, as well. Citigroup (C, Fortune 500) and JPMorgan Chase (JPM, Fortune 500) rose 2%.
The settlement goes to 22 investors, including BlackRock Inc (BLK, Fortune 500)., the Federal Reserve Bank of New York, MetLife Inc (MET, Fortune 500), PIMCO, Goldman Sachs Asset Management and other financial firms.
Bank of America also said it expects to report a second-quarter net loss of between $8.6 billion and $9.1 billion, or a range of 88 cents to 93 cents per share.
Excluding the mortgage settlement costs, BofA would have reported second-quarter income of 28 cents to 33 cents per share.
Raymond James analyst Anthony Polini described the settlement as "potentially a tremendous positive, a lot bigger than the 3% move [BofA] had out of the gate today."
But Polini and other analysts say that it remains to be seen how BofA will handle the ongoing hangover of the housing crisis.
"The tail, if you will, from that settlement was a bit longer than people thought," said Polini. "I think people need to feel reassured that what they heard [from BofA] is what will happen."
Separately, BofA faces investigation from attorney generals from all 50 states for its mortgage practices.
Federal regulators and attorneys general are looking into allegations that BofA, along with the nation's four other largest mortgage servicers, improperly foreclosed on homeowners by relying on shoddy documentation and foreclosure robo-signers who didn't verify records.
Attorneys general, in particular, are trying to eke out another lump sum settlement from those servicers that could also range in the billions of dollars, which would be used to help underwater homeowners.
Going a step further in his probe, New York Attorney General Eric Schneiderman last month requested meetings with staffers from BofA -- as well as Morgan Stanley (MS, Fortune 500) and Goldman Sachs (GS, Fortune 500) -- seeking information on their roles in the mortgage crisis that led to the downfall of the economy.
Last week, JPMorgan Chase (JPM, Fortune 500) agreed to pay a $153 million settlement a separate mortgage-related case. Though that settlement is peanuts compared to the one announced by BofA, it serves as yet another reminder of the ongoing mortgage mess that continues to foul the banking sector.
In addition to the $8.5 billion cash payment, BofA said it is also setting aside $5.5 billion for liabilities related to the government-sponsored mortgage backing firms Freddie Mac and Fannie Mae. The bank said some of that money was also going to exposure to other parties that are not government sponsored, without specifying what they were.
Much of Bank of America's exposure to mortgage securities stems from its 2008 acquisition of home loan originator Countrywide Mortgage Corp. The securities, which packaged numerous home mortgages and sold them to investors, faltered after the housing market collapsed.
Investors claimed that they had been misled by the packages, many of which were highly rated even though mortgages from borrowers with questionable credit.
"This is a major step forward for our company," said BofA chief executive Brian Moynihan, in a Webcast with reporters. He said the settlement allows his company to eliminate the risk from mortgage issues stemming from its purchase of Countrywide.
Richard Bove, analyst with Rochdale Securities, said there is plenty of uncertainly about the future of BofA. But he expects the company to make a profit in the second half of this year, and he thinks that the worst of the financial fallout has passed.
"That uncertainty is substantially less today than it was yesterday," said Bove. "There isn't enough out there for another hit on anywhere near this magnitude."
BofA said the settlement is subject to court approval before it can be finalized.
--CNNMoney senior writer Jennifer Liberto contributed to this story