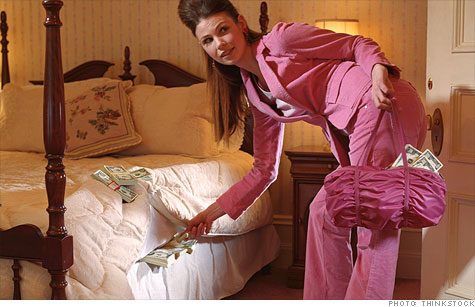 Lying about money can take a harsh toll on a marriage, but couples still do it all the time. See how they get away with it.
NEW YORK (CNNMoney) -- Having an affair isn't the only kind of cheating that can ruin a marriage.
Whether it's hiding the extra money you earn, keeping a secret bank account or hiding purchases from your spouse, so-called "financial infidelity" can take just as harsh a toll on a marriage.
Nevertheless, lying to a significant other about money runs rampant. Thirty-one percent of people who share finances with a partner say they've been deceptive about money, according to a recent survey by the National Endowment for Financial Education, or NEFE, a Denver, Colo.-based nonprofit. More than half of those respondents say they've hid cash or a minor purchase from their partner at some point. Even worse: 34% said they flat-out lied about debt or income.
So why do so many of us fib about our finances? Most people are afraid the consequences will be severe, said Justin Reckers, a certified financial planner and divorce financial analyst.
In NEFE's survey, 16% of the respondents said their financial infidelity eventually resulted in divorce.
Avoiding financial heartbreak
"If you are getting into an adult relationship, have an adult discussion about money," said Ted Beck, president and CEO of NEFE. "Setting some ground rules will avoid fights down the road."
Even during these tough economic times, couples often spend more time picking out china patterns than they do talking about finances. According to NEFE, 14% of couples who were recently married or are getting married soon don't even discuss money before tying the knot.
As her wedding date approached, Kim Halsey said her fiancee was reluctant to talk about his financial history, so she asked to see his credit report. "We'd ordered the cake, the dress and the invitations had just gone out," she said.
But when he refused to disclose any information about his past financial life, Halsey called off the wedding. "I broke an engagement because he had financial secrets and he just wouldn't come clean."
Halsey, who said she is now happily married to another man, called the break up "the best decision I ever made." In her new relationship, she said, there are no financial secrets. "We're really compatible."
To avoid an uncomfortable situation, Reckers said that couples should start by asking each other questions about their financial priorities. "They shouldn't be afraid to ask the questions up front: 'Would you prefer to spend money on a new house or save for retirement? Would you prefer to spend your bonus on a vacation or save it?'
"Those key things can help you get an idea of the values of your soon-to-be spouse," he said.
Telltale signs of the financially unfaithful
Of course, there are some red flags to watch out for. According to Beck, these are some of the telltale signs that your partner may be hiding something:
When they are resistant to a conversation about finances or become argumentative or angry when you discuss finances.
When your partner makes a big purchase without talking to you first.
When you find bills for items you didn't know about.
When you discover new lines of credit open in his -- or worse -- your name.
Beck advises getting regular credit reports and going through them together. "Make sure you understand what your partner has in the way of liabilities," he said.
Partners should also have a basic understanding of where each other is financially. Even if one person handles the finances in the relationship, the other should at least understand the basics of how much is being spent and how much is being saved, he said.