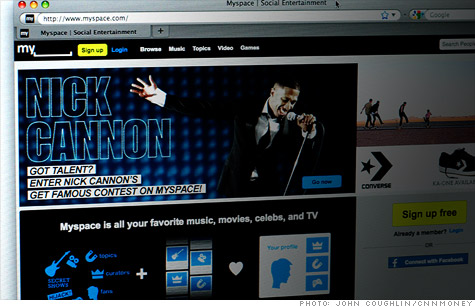 NEW YORK (CNNMoney) -- Myspace has a new owner: Digital ad network Specific Media said Wednesday that it has acquired the ailing social network from News Corp.
Financial terms of the deal were not disclosed, but multiple news reports put it at around $35 million -- far less than the $580 million News Corp. (NWS) paid for Myspace in 2005.
In a written statement, Specific Media CEO Tim Vanderhook praised Myspace as a "recognized leader" in social media, and said he looks forward to using Myspace to "drive the next generation of digital innovation."
The company also announced that music and entertainment artist Justin Timberlake will "take an ownership stake" and "play a major role" in developing a vision Myspace's future. Specific Media said it will offer a more specific roadmap later this summer.
Specific Media plans to use MySpace's social networking infrastructure "to deploy socially-activated advertising campaigns, enabling brands to turn their campaigns viral by allowing users to share their favorite ads with friends," the company said.
Myspace's steadily dwindling audience probably won't be thrilled by the idea of being viewed primarily as fodder for ad campaigns.
Once king of the social media world, Myspace has shrunk as rivals ascended. Facebook has a user base of more than 600 million; MySpace's active user base now sits around 130 million. The site's unique-visitors count has been steadily declining: According to analytics service Compete, Myspace was down 6.34% in May and down 54.47% for the year.
In January, the seven-year-old network laid off 500 employees, cutting its staff by 47%. At the time, Myspace tried to rebrand itself as a social site, providing an integration with Facebook that allowed users to stream their Facebook interests and likes into their Myspace page.
Further layoffs are expected to follow this acquisition, significantly thinning Myspace's current staff of around 500.
Several former employees -- and some newly unemployed ones -- spoke up Wednesday about their views on Myspace's downfall.
"I'm sure most employees (former or current) will argue that it was poor management, or a need to hit revenue targets once News Corp. took over, or a bottleneck in the technology department, or lack of resources given to their division, or a poor public relations effort, etc., that set the course of MySpace's downfall," former MySpace employee Lee Brenner said in a blog post.
Brenner says that once the social networking giant had won over the masses, it failed to develop and market itself to the "elites" who were leading innovation in the social media realm.
Vice president of online marketing Sean Percival tweeted: "Today is my last day with Myspace. It was a unique moment in time and an impossible problem to solve. Was proud to be a part of it."
Specific Media is based in Irvine, Calif., about 40 miles from Myspace's Los Angeles headquarters. Founded in 1999, the digital advertising company recently appointed Jim Knopf to a newly created position as the company's entertainment industry lead -- a sign that Specific has ambitions for a broader presence in the film and music fields.