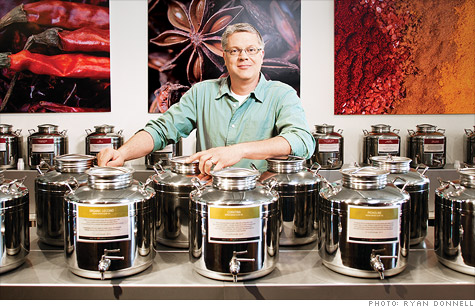 Alexander Rhoads, 46, Des Moines. Then: divorce attorney. Now: Spice retailer and owner of AllSpice.
(Money Magazine) -- After a decade as a divorce attorney, Alexander Rhoads grew weary of "seeing people in conflict," he says. "It took a toll on me."
A foodie whose own kitchen is stocked with 150 seasonings, he began thinking about the spice store he loved visiting in his native Chicago.
After two years studying similar shops across the world (his wife, Jennifer, a human resources director for a financial firm, did reconnaissance when she traveled for work), he leased a 1,700-square-foot store in Des Moines in early 2010.
He quit the law firm and by September opened AllSpice, a purveyor of spices, herbs, oils, and vinegars.
Estimating revenue of $500,000 this year, Rhoads expects to earn $75,000, about half his previous salary. And he has plans to expand into online sales. "What's made this so fulfilling," he says, "is that it's allowed me to combine my passions, instead of dividing them into work and hobbies."
How he did it
1. By working out living costs first.
Before Alexander signed a lease, the Rhoadses, who have a 9-year-old daughter, made sure that they could cover their $5,000-a-month expenses (including savings) from Jennifer's salary for up to a year and a half.
2. By strategically borrowing.
Initially Rhoads used his own money to start AllSpice. But a few months in, he got a $125,000 business loan from a credit union and replenished his savings. "I wanted the pressure of having to make payments to keep me focused."
3. By going to his audience.
"With prices as low as $1.55, there's a low barrier to making a purchase," he says. But Rhoads knew the challenge would be getting people to visit. So he chose a location where he'd get foot traffic, and holds tastings to lure customers inside.