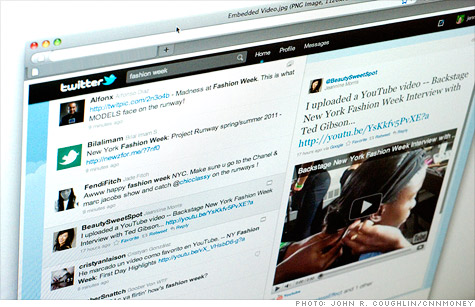 NEW YORK (CNNMoney) -- The Federal Trade Commission has launched an investigation into Twitter, focusing on the company's interactions with outside developers who build around its platform.
The FTC has asked several companies in the Twitter ecosystem about how Twitter's actions have affected their business, one developer who has been contacted told CNNMoney.
Twitter declined to comment on the investigation.
Uber Media, which has been viewed as a competitor to Twitter, was among those the FTC reached out to.
"We have been contacted by the FTC, and we intend to fully comply with their request for information," a company representative told CNNMoney.
In February, Twitter suspended UberMedia's UberTwitter and twidroyd, two popular apps used for mobile Twitter access. Twitter cited policy violations, including trademark infringement. UberMedia scrambled to make changes to bring its applications into compliance, and Twitter reinstated the apps' access soon after.
Multiple sources say there's been mounting tension between Twitter and its developer community as the company matures and exerts greater control over its platform. In May, Twitter acquired TweetDeck, one of the most popular third-party Twitter clients. The site has been adding new features like photo-sharing that compete with functionality offered by established outside ventures.
The problem's roots trace back to Twitter's haphazard early growth. Twitter grew in fits and starts, and often neglected to develop essential features -- so outside developers raced in to fill the gaps. One of Twitter's key investors, venture capitalist Fred Wilson, publicly criticized Twitter last year for its initially sluggish product enhancement.
"Much of the early work on the Twitter Platform has been filling holes in the Twitter product," Wilson wrote in his widely read blog. "Mobile clients come to mind. Photo sharing services come to mind. URL shorteners come to mind. Search comes to mind. Twitter really should have had all of that when it launched or it should have built those services right into the Twitter experience."
After a series of leadership shakeups, Twitter is starting to fill in those "holes" in its product. But there's a fine line between defeating rivals by building (or buying) better native functionality and defeating rivals by ordering them to stay off your turf. Twitter spooked many developers in March when its platform development leader, Ryan Sarver, told them that Twitter wanted to "move to a less fragmented world" and control all of its core functionality.
"Developers ask us if they should build client apps that mimic or reproduce the mainstream Twitter consumer client experience. The answer is no," he wrote in a discussion with developers.
Is Twitter playing fair?
Feelings are mixed. One developer said his company constantly struggles against technical constraints in the data sets Twitter makes available, and with the vague wording of Twitter's licensing agreements. Applications that violate those agreements can be kicked off Twitter's platform.
"As a developer you basically have no idea what is and is not allowable," said the developer, who asked not to be identified because his company is financially dependant on its Twitter integration. "Is it fair for Twitter to selectively target some of its developers for more literal interpretations of the API license terms, while being lax to others who are not being perceived as potential threats or competitors in areas that Twitter wants for themselves?"
Others say the company's communication with developers is getting better as Twitter devotes more attention to the issue. Twitter recently began hosting a series of open town-hall gatherings for those building around its platform. At one of those meetings last month, Twitter announced that 900,000 applications now integrate with its website.
Investors are betting heavily on those applications. At the same meeting, Twitter said that venture capitalists have sunk $475 million into companies in the Twitter ecosystem in the past six months alone.
Twitter itself may be famously unprofitable, but there's a lot of cash riding on it playing well with those sharing its sandbox.