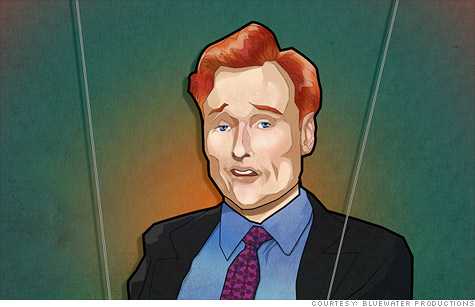 Bluewater Productions makes celebrities and famous figures the new superheroes of the comic book world. The latest subject? Conan O'Brien.
NEW YORK (CNNMoney) -- Move over Green Lantern. The subject of Bluewater Productions' next comic book is tall, flame-haired and a heck of a lot funnier.
Late-night talk show host Conan O'Brien is the latest in a slew of celebrities and famous figures to be immortalized in ink by the Vancouver, Wash.-based small press, which is making headlines and revenues with its biography comic books. O'Brien's comic book is set to debut in August.
The company churns out some four comic books per month, most of them unauthorized by the subject, according to company president Darren Davis. General David Petraeus will get his own comic book this November.
Generating buzz
Davis hails from Los Angeles and worked for a time in the entertainment industry, at companies such as E! Entertainment Television and USA Networks. So he knows the power of celebrity and has a knack for generating publicity for product lines -- comic books and graphic novels -- that normally don't generate headlines in major media outlets.
With no advertising budget, Bluewater's bio comics have been featured on ''Access Hollywood,'' ''The Today Show'' and Fox News. They also have been in ''The Huffington Post,'' ''USA Today'' and Vanity Fair, among others. And Davis' press releases are picked up regularly in the blogosphere.
Bluewater's nonfiction line is loaded with big names, such as Justin Bieber, Lady Gaga, Mark Zuckerberg, Princess Diana, Howard Stern, Madonna and Stephen King.
The line also features some unlikely subjects, including Ayn Rand and Ruth Handler, the creator of Barbie. ''These are really just people that I kinda want to know more about,'' Davis said, adding that the bio comic books strive to provide a nonbiased, scholarly and entertaining look at public figures.
''[Darren] bangs out pop biographies, and I think has a knack for picking the right stories to tell," said John Shableski, a graphic novel market consultant.
"The artwork and production isn't the highest quality, but it suits the expectations of the readers who are die-hard Justin Bieber, Stephenie Meyer or Lady Gaga fans. They want to read about their idols. And Bluewater fills the need. What Bluewater provides is a People magazine or Tiger Beat approach to the graphic novel publishing world, '' said Shableski.
The comic book industry is dominated by some pretty big guns, such as Marvel, the company behind X-Men and Spider-Man, and DC Comics, the home of Batman and Superman. This means that independent publishers must distinguish themselves and ''think out of the box'' in order to get a slice of the market, said Davis.
Although most comic books are sold primarily through specialty shops, Bluewater's publications are in places that once virtually ignored comic books, such as libraries and bookstores, said Tom McLean, the online editor for Animation magazine. Lately, these venues have been a big growth area for comics, he said.
Last year, Davis said Bluewater garnered ''well over'' $2 million in revenues, up 25 percent from 2009. And in February, the company landed an exclusive distribution deal with Wal-Mart for its ''Fame: Justin Bieber'' bio comic, which is being sold exclusively at the retail giant's North American locations. ''Wal-Mart was a big game changer for us," said Davis, adding that as much as 75 percent of sales now come from the biography comic books.
Superhero girls kicking butt. Not!
Davis, along with business partner Jason Schultz, founded Bluewater Productions in 2006, after originally publishing his work through other companies. Bluewater is a full-service publishing and production company specializing in comic books, graphic novels and multimedia. The company has six employees and utilizes more than a hundred freelancers globally.
In 2009, Davis was looking to expand on female empowerment themes in his fiction titles and decided to try biography comic books on Hillary Clinton and Sarah Palin.
''We don't do the traditional superhero girls kicking ass just because,'' he said. ''We have a strong female readership with our superhero books.''
The nonfiction books took off. Whereas Bluewater was selling 4,000 copies per issue of one of its popular fiction comics, such as ''10th Muse,'' the biography comics broke the 12,000 mark. "They more than doubled anything that we did," Davis said. Michelle Obama's biography comic book, also published in 2009, sold more than 100,000 copies, he said.
In July, the company features its newest addition, a Charlie Sheen biography comic book, as part of the new ''Infamous'' line. Bluewater will publish its second installment on Lindsay Lohan in September.
''I'm not into the salacious thing,'' Davis said. ''It doesn't really interest me, but I thought, okay, we'll just start this line of 'Infamous,' since people have come to me and asked why I don't do Mel Gibson or Schwarzenegger or Miley Cyrus. I don't want to do a lot of them, because I think they're kind of tacky.''
In other words, Davis said, for now Anthony Weiner is safe.