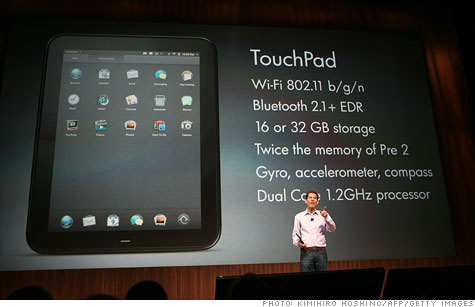 The TouchPad's release date is July 1, and it starts at the same price as the iPad.
NEW YORK (CNNMoney) -- HP's TouchPad tablet went on sale Friday for $499, the same price as the iPad.
The TouchPad is the same size as the iPad, with a 9.7-inch screen. What makes the TouchPad stand out in the jam-packed tablet field is its operating system: It runs on webOS, a rare alternative to the duopoly forming around Apple's iOS and Google's (GOOG, Fortune 500) Android.
An HP executive forecast at a conference in April that the TouchPad tablet computer will be the "number one plus" product on the market.
But early reviews for the HP tablet were mixed. Walt Mossberg at All Things D proclaimed the TouchPad "simply no match for the iPad," decrying its poor battery life and lack of apps.
Laptop Magazine rated the TouchPad 2.5 stars out of 5, praising the screen's "crisp and bright images" and dual speakers that "blew us away." The review criticized the tablet's 1.6-pound weight, saying "we felt the strain on our arm when trying to use the slate one-handed after several minutes."
Engadget called the TouchPad "somewhat chunky," noting that HP can beef up the apps over time but "what won't change is the hardware ... [it] leaves you wondering why you'd ever be compelled to buy the HP when you could have the thinner, lighter alternative for the same money."
Ars Technica said the TouchPad doesn't beat the iPad, but it's "the best second-best tablet."
HP is indeed gunning for the market leader, Apple, which sold 14.8 million iPads in 2010. But other competitors are coming up fast -- dozens of tablets are slated for release this year.
Would-be rivals have struggled to match the iPad's sales. RIM's PlayBook debuted in April to lackluster reviews, while Motorola's (MOT) Xoom -- the first to run Google's tablet-optimized "Honeycomb" 3.0 version of Android -- has sold sluggishly.
The 16 gigabyte TouchPad costs $499, and the 32 GB version is $599. That matches the cost for the Apple (AAPL, Fortune 500) iPad, Samsung's Galaxy Tab and Research in Motion's (RIMM) PlayBook.
A version with 3G Internet connectivity through AT&T (T, Fortune 500) will be announced later this summer, HP said.
HP (HPQ, Fortune 500)'s tablet is being sold through several retailers, including Best Buy (BBY, Fortune 500), Staples (SPLS, Fortune 500), Amazon (AMZN, Fortune 500), Office Depot (ODP, Fortune 500), Walmart (WMT, Fortune 500), Sam's Club, and OfficeMax (OMX, Fortune 500).
The TouchPad will be available in the United Kingdom, Ireland, France and Germany a few days after the U.S. launch. Later in the year, HP will ship the table to Italy, Spain, Australia, Hong Kong, New Zealand and Singapore.