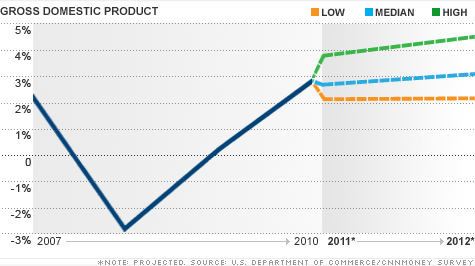 NEW YORK (CNNMoney) -- Almost no one is satisfied with the current state of the U.S. economy. But economists say the outlook is pretty bleak too.
Sluggish economic growth will continue into 2012, if not beyond, with only modest hiring and high unemployment, according to a CNNMoney survey of 27 economists.
The economists predict that gross domestic product, the broadest measure of the nation's economic health, will grow at only a 2% annual rate in the second quarter, little improved from the 1.9% growth rate in the first three months of the year.
For the full year, they're projecting growth of 2.6% -- even weaker than in 2010. While they expect growth to pick up to 3% in 2012, that's just barely enough to get employers hiring at a significant pace.
Expectations started off strong in 2011, with some economists looking for growth as high as 4.3% in the first quarter. But momentum waned in the spring after the Japanese earthquake shook the world economy and oil prices rose precipitously. Since then, economists have slashed forecasts for growth going forward, with some raising the risk of a new recession.

"The start-and-stop recovery we have experienced over the last year and a half is stifling the momentum necessary for business confidence to rise materially and hiring to gain traction," said Russell Price, senior economist at Ameriprise Financial.
Forecasts for the job market aren't much better.

The June jobs report due Friday is expected to show 120,000 jobs added to payrolls, with businesses adding 130,000 as government employment continues to decline. Typically, the economy needs to add about 150,000 just to keep pace with population growth.
The unemployment rate is expected to fall only slightly to 9% from 9.1% in May.
Hiring for all of 2011 is expected to come in just under 2 million jobs. And unemployment is expected to be at 8.7% at the end of this year.
The economists blame the hiring slump on uncertainty about consumer demand and Washington's future actions on debt, health care reform and financial regulation.
While the forecast is slightly better for hiring next year, with economists expecting about 200,000 jobs being added on average each month, that will only be enough to bring unemployment down to 8.1% by the end of 2012.
For that reason, most economists don't expect the Federal Reserve to start reining in the economy anytime soon, even though inflation is likely to pick up. The economists predict overall prices will rise about 3.2% this year, up from 1.2% last year.
Only two economists expect a rate hike from the central bank this year, while about half expect the Fed's next move will be to raise rates in 2012 or later. Others expect lower-profile steps, like setting an explicit inflation target or changing the interest rate paid on excess reserves.
None of them expect the Fed to embark on another round of asset purchases to pump cash into the economy, a controversial effort known as quantitative easing, although Keith Hembre, chief economist of Nuveen Asset Management said that could happen if there is a European sovereign debt default or an unexpected hard landing for the Chinese economy.