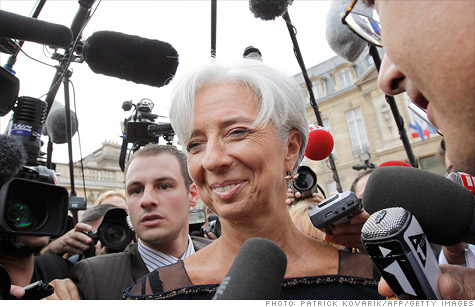 Christine Lagarde begins a five-year stint as managing director of the International Monetary Fund on Tuesday.
NEW YORK (CNNMoney) -- Christine Lagarde, the incoming head of the International Monetary Fund, will receive over $550,000 a year in total compensation, the organization said Tuesday.
The former finance minister of France's pay package includes an after-tax salary of $467,940 a year and an annual allowance of $83,760 for living expenses, the IMF disclosed.
Lagarde, the first woman to run the global financial institution, begins her 5-year term as managing director Tuesday.
She takes over at a crucial time for the IMF, which is working closely with the European Union and the European Central Bank to provide financial support for Greece and other troubled European economies.
The IMF has also been rocked by the controversy surrounding Dominique Strauss-Kahn, the former managing director, who resigned in May after being accused of sexually assaulting a hotel maid in New York.
Strauss-Kahn was released from house arrest last week after prosecutors said the credibility of the alleged victim was in question.
When he was appointed in 2007, Strauss-Kahn was awarded a salary of $420,930 a year and an allowance of $75,350, according to IMF records.
According to the terms of her appointment, the IMF said Lagarde is "expected to observe the highest standards of ethical conduct, consistent with the values of integrity, impartiality and discretion."
Lagarde's allowance will be paid out in monthly installments "without any certification or justification by [Lagarde]." The money is to be used by Lagarde to ensure "a scale of living appropriate to your position as Managing Director and to the Fund's need for representation."
The terms state that Lagarde will be able to manage her own investments and those of her immediate family members. But she must provide annual disclosures to the IMF's board to ensure there are no conflicts of interest.
Lagarde will receive retirement benefits and will be able to take a "reasonable vacation," according to the terms.
The IMF is an organization of 187 nations dedicated to monetary cooperation and exchange rate stability. The 66-year old organization also works to facilitate international trade and promote economic growth around the world.