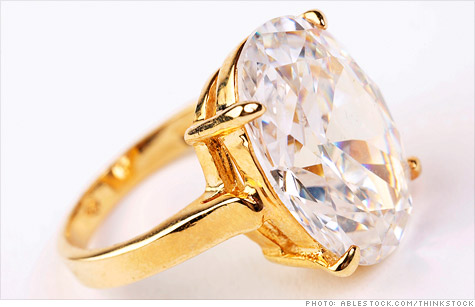 Your gold and silver jewelry may be underinsured.
(Money Magazine) -- With commodity prices still rising -- both gold and silver have notched sizable gains this year -- your precious possessions may be due for an insurance upgrade.
A 14-karat-gold necklace that cost $750 to replace five years ago, for example, now runs $1,100, says Robert Aretz, president of Gem Appraisers & Consultants.
Meanwhile, the standard homeowners policy limits coverage on jewelry and certain other valuables to around $2,000 per category, according to the Insurance Information Institute.
So if your home is burglarized and your jewelry box emptied, you could get shorted. Even with a rider, which extends protection on specific items, you're covered for only the last appraised value. It's high time, therefore, to review your jewelry coverage. While you're at it, re-evaluate insurance on other valuables, too -- namely, art, antiques, furs, wines, and collectibles.
Get an appraisal
Ordinarily, having valuables appraised every five years is sufficient. But when their prices are particularly volatile, as with jewelry today, have it done every two years, says Bob Hunter, director of insurance for the Consumer Federation of America.
You'll pay about $100 to $200 per piece of jewelry and $200 to $600 an hour for art, though a reappraisal can cost 40% less than the original, says Aleya Lehmann Bench of the Appraisers Association of America. The appraiser -- find one at appraisers-assoc.org -- will produce a detailed report you can submit to your insurer.
Know the insurance lingo
You can add protection for individual items via a homeowners insurance rider usually called a floater. The premium depends on risk and location, so storing jewelry at the bank, for instance, can cut premiums by up to 60%, notes Todd Boyle of insurance agency Scarborough & Associates. A floater for jewelry ranges from 90 cents to $2 per $100 of coverage; for art, 25 cents to $1; for wine, 33 cents to 55 cents.
Alternatively, you can buy blanket coverage to get higher limits on a certain category (like furs or art). Often less expensive -- 14 cents for $100 of art coverage, for example -- this approach doesn't require you to declare each item's value or get appraisals.
But expect a limit on what you can claim per piece or incident -- often $2,000 to $10,000 -- and, lacking the appraisal, you may have a harder time convincing the insurer that something is worth what you say it is.
Decide how to cover what
Baltimore financial planner Tim Maurer suggests ranking your possessions by their worth to determine what protection to buy.
Get a floater for items that cost more to replace than the per-piece limit on blanket coverage, as well as jewelry you wear frequently and are therefore at high risk of losing.
A blanket may suffice for everything else.