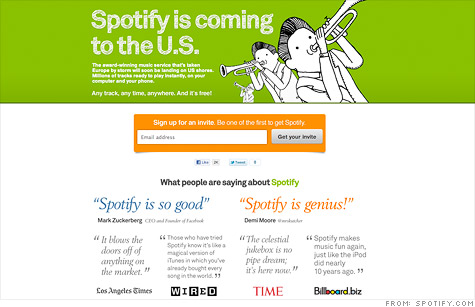 NEW YORK (CNNMoney) -- Popular European music sharing service Spotify is coming to the United States, the company confirmed Wednesday.
Spotify offered few details, sticking with a short statement posted on its website: "The award-winning music service that's taken Europe by storm will soon be landing on US shores. Millions of tracks ready to play instantly, on your computer and your phone."
Launched in Sweden but currently headquartered in London, Spotify has been a giant hit overseas, drawing an estimated 10 million users and glowing reviews. "Spotify makes music fun again, just like the iPod did nearly 10 years ago," music magazine Billboard raved about the service it calls "the next big thing that almost no one has experienced."
Spotify has been eying the U.S. market for years but had its launch plans on hold while it negotiated with the major music labels. Just weeks ago at a conference in London, a Spotify rep said the company was signing the remaining licensing deals it needed to launch in the United States.
Spotify gives users the ability to stream music from a vast catalog, share songs and playlists, and sync their music subscriptions across multiple devices. It uses a "freemium" business model in Europe, offering a free service with ads or a paid, premium music stream.
Its U.S. competitors include streaming music services Pandora (P) and Rhapsody.
Founded in 2006 by Martin Lorentzon and Daniel Ek, Spotify said in March that it now has 1 million paying subscribers. It recently raised a reported $100 million from Russian venture capital firm DST, Kleiner Perkins and Accel Partners.