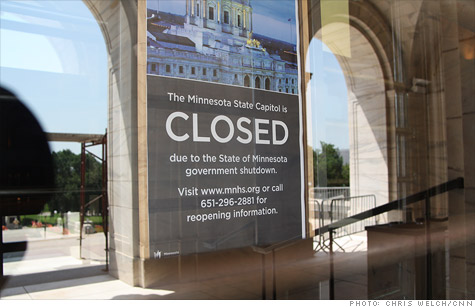 The government shutdown in Minnesota is costing the state and businesses.
NEW YORK (CNNMoney) -- There won't be any happy hours at The Independent in Minneapolis during the government shutdown.
The restaurant's liquor license expired just as a budget impasse in Minnesota put most state operations on hold. So both the state licensing bureau and the eatery had to shut their doors Friday.
"This certainly isn't good news for our hungry and thirsty friends," The Independent posted on its blog, noting it plans a grand reopening sometime soon.
The government shutdown is taking an economic toll on businesses and professionals around the state. And it's costing Minnesota a pretty penny too.
Governor Mark Dayton continues to meet with Republican lawmakers about bridging the $1.4 billion budget gap that separates them. However, a solution is not yet in hand.
Meanwhile, businesses frequented by state employees and state park-goers are not seeing as many customers. Some construction companies -- and thousands of their employees -- are sitting idle because they can no longer work on highway projects. Doctors, nurses, teachers and other professionals can't apply for or renew their licenses.
The state is also losing millions in revenue every day of the shutdown. The lottery normally pulls in about $1.25 million daily, while state compliance officers chase down about $1.68 million in tax revenues per day. The closing of the express toll lanes and Giants Ridge public golf course and convention center means more than $120,000 a week will slip away.
Plus, Minnesota expects to shell out $8.5 million a week in unemployment insurance for the laid-off state workers, according to the Department of Employment and Economic Development. And it will pay $4.7 million to cover their health insurance weekly.
Those unemployed public employees, combined with the laid-off construction workers and social services providers who lost their state funding, are expected to drain $18 million in spending from Minnesota's economy each week, said Thomas Stinson, who was the state's economist until he lost his job on Friday.
"People will be surprised at the impact of the state shutdown -- both on the amount of spending available and where it hits," said Stinson, who is also an economist at the University of Minnesota. "It will trickle down in ways we may not have thought of."
Many government workers started reining in their spending last month, said Eliot Seide, executive director of AFSCME Council 5, a major union in the state. And now, they are keeping an even tighter hold on their wallets.
"They are spending less money when that money could be stimulating the economy," he said.
Businesses, especially those that cater to park-goers and to hunters and fishermen, are also being squeezed.
Shawn Haag can spend up to $50 at bait shops, supermarkets and convenience stores when he goes fishing for the day. But since he didn't renew his fishing license in time, he won't be patronizing those establishments.
Even worse, his buddies are planning to rent a charter boat to go fishing for his bachelor party later this month. But if the state remains closed, they'll have to find something else to do.
"This is affecting a lot of businesses," said Haag, a Hugo resident.
The shuttered licensing bureaus are also sending some health professionals and teachers into a tizzy. It's hitting recent graduates seeking to enter those careers particularly hard since it can take weeks to process new applications even when the government is open.
Ryan Davidson is looking for a job as a French teacher in a Minnesota school. But the newly minted Iowa State University graduate is concerned that her application is on hold.
"If the license isn't processed in time, I cannot teach," she said. "My application is probably sitting on someone's desk at the moment. It's not a warm and fuzzy way to start a career."

Meanwhile, another round of talks Wednesday between Dayton and Republican lawmakers yielded only barbs and accusations. The governor proposed temporarily adding a 2% surcharge on millionaires or raising cigarette taxes by $1 a pack to bridge the remaining gap.

Republican leaders said a tax increase was a non-starter.

"It was very disappointing and a step backwards," said House Speaker Kurt Zellers, of the governor's latest proposal.