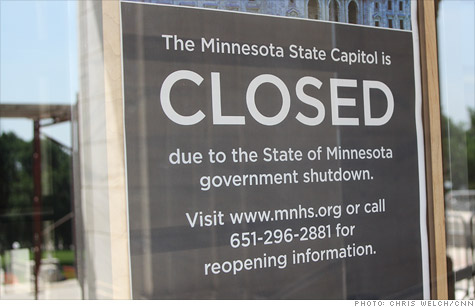 Fitch downgraded Minnesota because of its government shutdown over a budget impasse.
NEW YORK (CNNMoney) -- Fitch Ratings downgraded Minnesota's debt ratings in the wake of a government shutdown stemming from a budget dispute.
Fitch knocked the state off its triple-A rating pedestal because of its "difficulties in reaching consensus" on its budget gap for the fiscal year that began July 1. Fitch also cited the "increasingly contentious budgeting environment in the state in recent years."
A lower debt rating hurts Minnesota because the increased risk means it will need to pay higher interest rates to investors.
The state shutdown all but essential government services on July 1 after Governor Mark Dayton, a Democrat, and Republican lawmakers failed to make peace over their budget dispute and fill a $1.4 billion gap. They're fighting over whether to raise taxes or cut spending.
This caused the state parks to close down throughout the Independence Day weekend and triggered the layoffs of more than 20,000 state employees. Road construction projects are on hold and highway rest stops are shuttered.
The rating agency also highlighted Minnesota's reliance on one-time budget fixes during the recession and the likelihood that any budget accord will contain more of them.
Fitch said the most significant of these measures were payment deferrals to school districts and the use of funds from the federal stimulus program. The $1.4 billion budget gap represents "school aid payment shifts employed to balance the last biennial budget," said Fitch.
The ratings agency now has a double-A-plus rating for Minnesota debt.
On a positive note, Fitch praised Minnesota for its balanced economy with a "recovering" job market. The agency also said the state has a strong debt position "with a debt burden that is on the low end of the moderate range at about 2.7% of personal income."
-- CNNMoney senior writer Tami Luhby contributed to this report