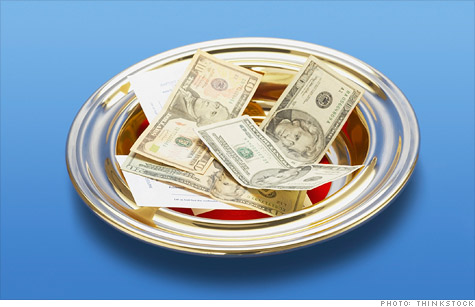 (Money Magazine) -- My wife prefers to donate to religious charities and hates it when I donate to environmental ones or any other one she doesn't approve of. Got a solution? -- E.J., Colorado Springs
Readers say:
Go with your choice one year and with hers the next year. -- Rajeev Chowdhry, Dallas
Watch environmental documentaries with her to raise awareness. -- Kan Wang, Eastvale, Calif.
Find religious charities that do environmental work. -- Chris Perez, San Diego
My husband and I split our giving three ways: half goes to charities we both agree on, 25% goes to causes I pick, and 25% goes to his choices. -- Debra Tenenbaum, Portland, Maine
Budget an amount for charity. Split it. As long as the charity puts more than 70% of the income it receives to good use, no questions asked. -- Mike Bielenberg, Lakeport, Calif.
The expert says:
It's not essential that you agree on which charity is "right" for both of you. You can give to the causes you each believe in as individuals, instead of as a single unit. You do have a responsibility to decide as a couple how much you can afford to donate given your financial resources so that your charitable giving doesn't threaten other important goals, such as retirement or education expenses. -- Susan Zimmerman, chartered financial consultant and a marriage and family therapist.
Got a question for the help desk? Send it to helpdesk@cnnmoney.com.