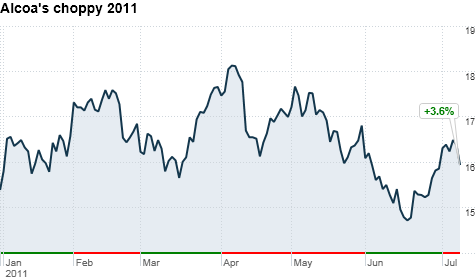 Click the chart for more on Alcoa.
NEW YORK (CNNMoney) -- Aluminum producer Alcoa Inc. reported second-quarter revenue Monday that beat estimates.
Alcoa earned $364 million in continuing operations, or 32 cents per share, excluding one-time charges. By comparison, Alcoa earned 13 cents per share in the same quarter last year.
That was in line with forecasts from analysts polled by Thomson Financial, which typically exclude one-time items from its estimates.
As the recovery picture remains hazy, investors are watching Alcoa (AA, Fortune 500) -- a Dow component and the first major company to report second quarter earnings -- for clues about how corporate results in general fared during the quarter.
Revenue rose 27% over the year to $6.59 billion, beating analyst forecasts of $6.31 billion.
"Although the economic recovery is uneven, the overall outlook for Alcoa -- and for aluminum -- remains positive," Alcoa CEO Klaus Kleinfeld said in a prepared statement.
Kleinfeld said Alcoa is expecting aluminum demand will grow 12% this year and will double by 2020.
In a conference call with analysts after the report's release, Kleinfeld said Monday's report "supported our prediction" for demand.
Shares of Alcoa gained 0.8% in after-hours trading immediately following the report, but then drifted 0.7% lower as the evening continued. The stock fell about 2.8% in the regular trading session Monday, following the broader market lower.
Alcoa's first quarter report turned in its strongest quarterly profit in nearly three years, though its sales fell slightly short of expectations.