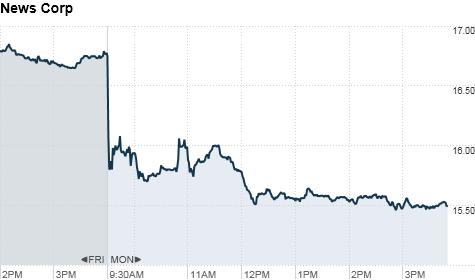 Click the chart for more data on News Corporation.
NEW YORK (CNNMoney) -- News Corporation (NWSA, Fortune 500) said Monday it was continuing its bid to purchase satellite TV company British Sky Broadcasting despite heightened political heat Rupert Murdoch's media empire faces stemming from the British phone hacking scandal.
The company said in a statement it is taking its bid to the U.K.'s Competition Commission, effectively delaying News Corp.'s possible purchase of BSkyB until the first part of 2012 at the earliest.
Shares of News Corp. dropped sharply on the news, falling more than 7.5% on investor concerns that News Corp. will be unable to get the regulatory approval necessary to purchase BSkyB. Shares of BSkyB dropped 7.5% in London.
Tuna Amobi, analyst with Standard & Poor's, who has a "buy" rating on News Corp. shares said he thinks it's now just a 50-50 chance that the deal will get done.
In January, News Corp. proposed spinning off Sky News into a separate publicly-traded company as a concession for its purchase of BSkyB. News Corp. was trying to avoid at all costs taking the bid to the Competition Commission, instead favoring getting regulatory approval from the politically-sympathetic office of British Secretary of State Jeremy Hunt.
But as a result of ongoing British phone hacking scandal tied to News Corp.'s "News of The World" publication, those political sympathies appear to have dissipated.
Deputy Prime Minister Nick Clegg said Monday that News Corp. should "reconsider" its bid for BSkyB following an uproar over allegations that "News of the World" hacked into British citizens' voicemails, including a 13-year-old murder victim and the families of dead British soldiers.
The scandal was so massive in the U.K. that News Corp. closed down the tabloid. Its last edition was published on Sunday.
Late last week, a group of institutional investors filed an amended lawsuit against News Corp., claiming that a lack of corporate governance was in part responsible for the hacking scandal. The original lawsuit, filed in March, related to an asset sale involving Rupert Murdoch's daughter.
Sources inside of News Corp. said the decision to take the BSkyB bid to the Competition Commission is a move to "take the politics out" of approval.
"[The bid] should have been a clear technical matter but instead of it being a business issue, the bid became a political issue," a source inside News Corp who declined to be identified.
It will take between 24 and 32 weeks for the Competition Commission, if it decides to review the bid, to issue its recommendations. That could give News Corp. time to contain the fallout tied to the hacking scandal.
But the story may not have played out just yet. Former British Prime Minister Gordon Brown accused News Corp. journalists Monday of allegedly trying to obtain his own personal information - including medical records and bank statements.
"These are serious corporate governance issues at News Corp.," Amobi said. "Investors are not focused on News Corp.'s fundamentals but are rightly focused on whether the company faces serious reputational damage."