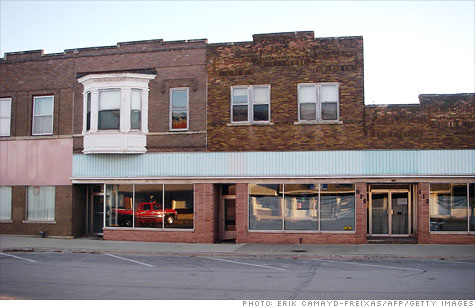 Three out of four small business owners blame their pessimistic outlook on the weak economy.
NEW YORK (CNNMoney) -- Hiring and the mood among small business owners continued their downward spiral, according to survey results from an industry group.
The survey found that only 11% of small businesses expect to add jobs in the next three months, which is down from 13% in May, compared to 16% in April and 18% in March, according to the National Federation of Independent Business.
A bit of a silver lining: Seven percent of small businesses expect to trim their workforce, which is down from 8% in May, yet up from 6% in April, the organization said.
The NFIB's index, which measures small business optimism, dipped for the fourth consecutive month in June, hovering at a level "solidly in recession territory," the report said.
The index fell 0.1 of a point in June to 90.8, according to the survey.
"Between the deluge of new regulations and a Washington policy agenda that is largely ignorant of Main Street needs, stubbornly low consumer spending, and grave concern among small firms about the federal budget, there is not much to be optimistic about as a small-business owner," said Bill Dunkelberg, the NFIB's Chief Economist, in a written statement.
The slowdown in hiring isn't because of a lack of jobs. In fact, there are job openings, but they are not being filled, the report said. Fifteen percent of small businesses said they have available job openings, a three percentage point increase over the previous month.
The survey is yet more evidence that the small business sector is struggling. Monday, the U.S. Chamber of Commerce found that almost two-thirds of the businesses it surveyed said they will keep the same number of employees for the next year.
Small business job generation is critical for an economy with a high unemployment rate. The U.S. unemployment rate ticked up to 9.2% in June from May. Small firms provide just over half of private sector jobs, according to the Small Business Administration's Office of Advocacy. And over the past 15 years, small businesses have created 64% of net new jobs.