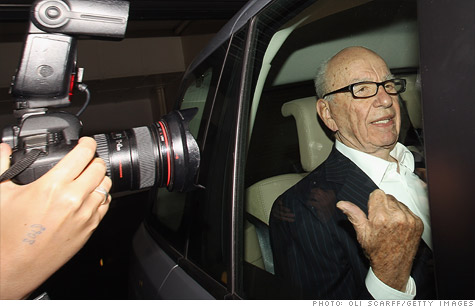 Rupert Murdoch's media empire has been rocked by a phone hacking scandal.
NEW YORK (CNNMoney) -- News Corp. said Tuesday that its board of directors has approved a $5 billion stock repurchase to start later this year.
The news comes just one day after the company announced it is taking its bid for BSkyB to the U.K.'s Competition Commission, effectively delaying a possible purchase until the first part of 2012 at the earliest.
The media conglomerate is facing intense political pressure in the wake of a phone hacking scandal, and has lost almost $7 billion in market capitalization over the past five trading sessions.
Share repurchases are generally undertaken by management when a company has excess cash and feels its share price is trading at a depressed level.
Shares of News Corp. (NWS), the brainchild of media mogul Rupert Murdoch, jumped 3.4% to $15.99 after the repurchase was announced. The buyback won't start until at least Aug. 15, the company said in a statement.
Laura Martin, senior media analyst at Needham & Company, said the reinvestment is a great move.
"At the current share price, I think this is the best use of their cash," Needham said. "Leave it to a self-made billionaire to figure the best way out of a tight spot."
The company's long-festering phone hacking scandal exploded in recent weeks after it was revealed employees of "News of The World" had illegally eavesdropped on the phone messages of murder and terrorist victims.
The scandal was so massive in the U.K. that News Corp. closed down the tabloid. Its last edition was published on Sunday. Police said last week that they had identified almost 4,000 potential targets of phone-hacking.
In January, News Corp. proposed spinning off Sky News into a separate publicly-traded company as a concession for its purchase of broadcaster BSkyB. News Corp. was trying to avoid at all costs taking the bid to the Competition Commission, instead favoring getting regulatory approval from the politically-sympathetic office of British Secretary of State Jeremy Hunt.
On Monday, former British Prime Minister Gordon Brown accused News Corp. journalists of allegedly trying to obtain his own personal information - including medical records and bank statements.