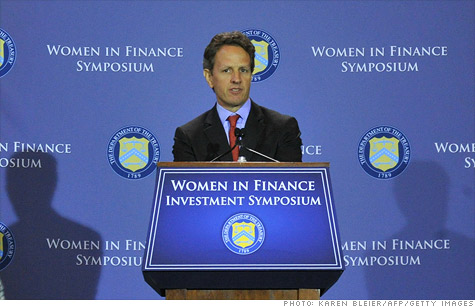 Treasury Secretary Tim Geithner spoke at the Women in Finance Symposium Tuesday about the need to get a deal to raise the debt ceiling this week.
WASHINGTON (CNNMoney) -- Treasury Secretary Tim Geithner said Tuesday that he wants a deal to raise the debt ceiling and cut the budget by the end of this week -- or next week at the latest -- to give Congress enough time to turn the deal into law.
"We know we don't have a lot of time, and we want to wrap up the broad outlines of the agreement by the end of this week, certainly by the end of next week," Geithner said at the Women in Finance Symposium at the Treasury Department.
Geithner added that he was confident that the debt ceiling will be raised by the Aug. 2 deadline, the date when the United States would otherwise be unable to pay all its bills.
"Default is not an option, failure is not an option, and they understand that -- Speaker (John) Boehner and Minority Leader (Mitch) McConnell -- absolutely understand we need to move in advance of the deadline on Aug. 2nd," Geithner said. "What's at stake is whether we can put together a long-term fiscal plan that's good for the economy."
President Obama and congressional leaders have been locked in high stakes negotiations for weeks over a deal that could reportedly cut as much as $4 trillion in debt over the next decade in return for an agreement to raise the cap on U.S. borrowing.
Talks have been touch and go. Over the weekend, House Speaker John Boehner said he can't sign on to a $4 trillion debt-reduction package because the White House continues to insist the package include some tax increases.
But, on Monday, Obama again pressed his call for compromise, saying that everyone must "eat our peas" to cut deficits.
On Tuesday, Geithner addressed a large group of business women in the gilded Cash Room at the U.S. Treasury.
He gave a nod to his boss across the street at the White House, saying Obama would be meeting with congressional leaders later Tuesday. He departed from his prepared remarks and used much stronger language to underscore the need to get a deal done on debt.
Geithner said President Obama wants the largest deal possible and has put forth offers that are "difficult for him politically" in order to get a deal.
"But the Republicans are going to have to do some difficult things, too," Geithner said. "You can't ask middle-class families and retirees to bear the entire sacrifice for those savings on their own."
-- CNN Producer Eric Marrapodi contributed to this report.