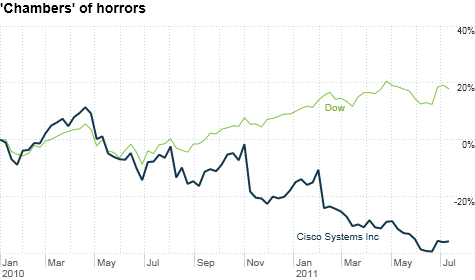 Cisco has lagged the broader market by a wide margin for the past year-and-a-half. That's led some investors to question if CEO John Chambers can get the company back on track.
NEW YORK (CNNMoney) -- Cisco Systems is one of the worst performing stocks in the Dow this year. Shares have plunged more than 20%. Investors are hungry for a big change.
So far, shutting down the Flip video camera unit and a shakeup of the corporate organization chart have failed to impress. Neither has the initiation of a juicy dividend. Heck, even consumer advocate and perpetual third-party presidential hopeful Ralph Nader is angry about Cisco's woeful stock performance.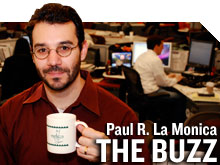 In the latest twist, the market is now chattering about massive layoffs at the once mighty networking company. Bloomberg reported late Monday that Cisco may cut 10,000 jobs, or 14% of its workforce, in order to boost profits.
That speculation has awakened Cisco (CSCO, Fortune 500) bulls from their slumber. Shares rose nearly 3% in Tuesday afternoon trading even as other tech stocks pulled back following poor earnings news from semiconductor companies Novellus Systems (NVLS) and Microchip Technology (MCHP).
The mini-rally for Cisco Tuesday even allowed the company to shed its tag as THE worst performing Dow stock this year. That dubious honor now is bestowed upon Bank of America (BAC, Fortune 500).
So does the market's positive reaction to the Cisco layoff reports give long-time Cisco CEO John Chambers, who has been the focal point of investor criticism lately, some time to get the company back on track? Perhaps.
But Chambers will still need to do more to convince a skeptical Wall Street that the company can pull a Bruce Springsteen and prove that its glory days have not passed it by.
"The stock is down and profit margins are near 10-year lows," said Brent Bracelin, an analyst with Pacific Crest Securities in Portland, Ore. "Changes need to happen, and it sounds like they will be swift and meaningful. There is room for improving efficiencies."
The fact that Cisco is downsizing should not be a surprise. The company said in May -- after issuing yet another disappointing outlook -- that headcount reductions were one thing it was planning to help slash overall costs.
Karen Tillman, a spokeswoman for Cisco, said that the company will give more details about how it plans to lower expenses by $1 billion during its next earnings conference call on August 10. She said those plans will include job cuts.
Still, 10,000 people is a lot more than anyone expected. Hours before Bloomberg's story broke, Reuters quoted Gleacher & Co. analyst Brian Marhsall as saying he thought 5,000 layoffs were likely.
As dramatic as the Cisco restructuring sounds, analysts said it's the right thing to do and long overdue. What's taking place at Cisco now may simply be a recognition that it has to catch up with what happened throughout the tech world a few years ago.
"Keep in mind that Cisco did not go through a major downsizing in the downturn of 2008 and 2009. The company cut costs in other ways to lower operating expenses," said Brian White, an analyst with Ticonderoga Securities in New York.
"Chambers does not like to downsize. The company was aggressively hiring early last year," White added.
It's of course painful to admit that you got too bloated and now have to pare back. But Chambers appears to finally be coming to grips with the reality that bigger isn't always better. It's time to be lean and mean. (Have I exhausted all the management cliches yet?)
It looks like Cisco will be taking other steps to "rightsize" itself. (Ooh! More CEO jargon!)
According to a report by networking news site Light Reading Cable, Cisco is said to be considering a sale of a plant that makes cable set-top boxes in Juarez, Mexico. Cisco inherited that when it acquired box maker Scientific-Atlanta. Tillman would not comment on the report.
But Shaw Wu, an analyst with Sterne, Agee & Leach in San Francisco, said that such a move would make a lot of sense for Cisco. The company needs to reduce its exposure to slower-growth, low profit margin businesses, he said.
White also thinks Cisco should narrow its focus.
He points out that one problem for Cisco is that by acquiring as many companies as it has in order to expand into newer product areas, it wound up losing market share to upstarts like Juniper Networks (JNPR) and F5 Networks (FFIV).
HP (HPQ, Fortune 500), which acquired 3Com last year, has also emerged as a strong competitive threat in the low end of the markets for routers and switches..
Still, White thinks that Cisco has the financial wherewithal to ride out its current problems. Despite all its troubles, Cisco is still sitting on a huge amount of cash (or "caysh" as Chambers famously -- to tech and investing geeks at least -- pronounces it). Cisco has $43.4 billion on its balance sheet.
This isn't a company in danger of imminent demise. White is recommending the stock.
"You have to be patient, but over the next two to three years you'll be happy that you own it," he said.
Wu agreed. He said that if Cisco takes more steps beyond job cuts to try and turn around the firm's fortunes, that could rejuvenate the company. He thinks investors will be patient ... but only to a point.
"There is a camp of people who think Cisco is structurally flawed and not fixable," Wu said. "But I think Chambers has about a year to turn it around. Investors hoping for more changes. We'll have to wait and see."
The opinions expressed in this commentary are solely those of Paul R. La Monica. Other than Time Warner, the parent of CNNMoney, and Abbott Laboratories, La Monica does not own positions in any individual stocks.