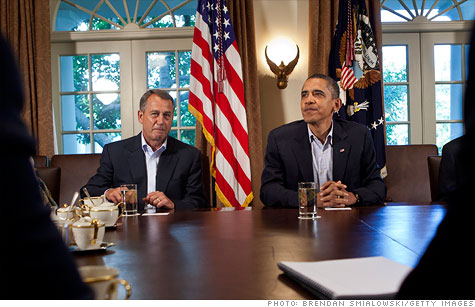 At the negotiating table.
NEW YORK (CNNMoney) -- The nation's top lawmakers are locked in a knock-down, drag-out fight over raising the debt ceiling.
The stakes couldn't be higher. The full faith and credit of the U.S. government is on the line. It's a negotiation of immense importance.
And if lawmakers really want to strike a deal, they might want to change how they're approaching the talks, say two leading experts -- one a former chief international kidnapping negotiator for the FBI.
Lawmakers have to raise the nation's legal borrowing limit by Aug. 2, or the Treasury Department will run out of money to pay all its bills on time and in full.
That deadline is now only a couple weeks away. Negotiations started months ago, and by all accounts, the parties are still deadlocked. It's classic brinkmanship.
"This is not exactly a textbook example of effective negotiation," said Robert Bordone, a professor who leads Harvard Law's negotiation studies.
The professionals say that issuing ultimatums, threatening to walk out, belittling the opposition and negotiating in public are all counterproductive.
The problem is that's exactly what President Obama and House Speaker John Boehner -- and their deputies -- have been doing.
Both parties have been busy drawing lines in the sand. Republicans refuse to accept any increase in revenue, and Obama made clear earlier this week that he will not accept a short-term solution.
"When you say that publicly, you make it harder for negotiations to move forward," Bordone said. "Part of the problem here is it seems to be much more of a show for constituents than a genuine negotiation between leaders."
Washington negotiations are, of course, anything but normal. There are special considerations. Like the next election.
"In general terms, politicians only know how to grandstand in public and capitulate in private," said Chris Voss, the former FBI negotiator and now adjunct professor at Georgetown.
And this negotiation has an extra layer of complexity. Both sides don't even agree on what is being debated. A not insignificant number of Republicans, for instance, are debt-ceiling deniers.
Still, there are steps lawmakers can take to get negotiations back on track.
First, talk a little less in public.
Hard as that might be for sound-byte happy politicians, the next step might be even tougher. The principal negotiators have to learn to trust each other.
"These are the kinds of deals that are done behind closed doors, where there is sufficient trust," Bordone said. "That doesn't exist now."
And the ultimatums have to stop.
"Ultimatums tend to create negative residue," Voss said. "You have to make them feel as if it's mutual win."
Even if those prescriptions are followed, the ultimate motivating factor might be the deadline itself.
"Often times a looming deadline does help parties reach an agreement," Bordone said. "But whether or not there is a good outcome, this process could have been less painful."