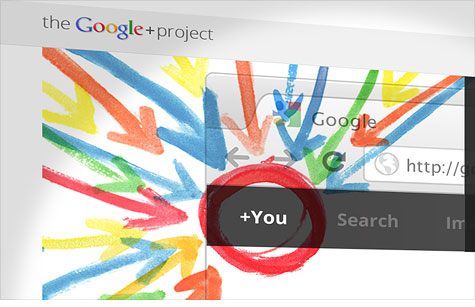 NEW YORK (CNNMoney) -- Google's Facebook competitor Google+ grew to 10 million users in just two weeks, the company announced Thursday.
That's only a bit more than 1% of Facebook's 750 million global users, but it still represents staggering growth for Google's infant social network, which isn't yet open to the public. The site remains in a "limited" trial phase.
"Growth on Google+ has been great," Google CEO Larry Page said on a conference call with analysts. "Over 10 million have joined. That's a great achievement for the team. There has been a ton of activity."
Page said more than 1 billion items are being shared on the network every day. The "+1" button, which populates search results with friends' recommendations, has been clicked 2.3 billion times a day.
Google+ represents a part of the new CEO's grand vision for the 13-year old company. Despite Google's position as the worldwide leader in search, Page has opted to treat the company as a startup, increasing hiring and starting several new initiatives.
"Today, I see more opportunities for Google than ever before; we're just at the beginning of what we want to do," Page said. "We're only at 1% of what's possible. Google's just getting started."
Accordingly, Google continued its hiring spree in the second quarter, upping its headcount by nearly 9%, or 2,500 employees -- including 450 from the acquisition of flight data company ITA .
The company also has spent freely, putting more than $900 million into its infrastructure during the quarter, including expanding its massive data centers. The company says it expects to continue to make "significant" capital expenditures going forward.
Google says all that spending will keep the company ahead of its rivals.
The past quarter has been a busy one. In addition to Google+, the company started selling its Chromebook line of laptops aimed at current Microsoft (MSFT, Fortune 500) corporate clients and launched its Music application to compete with Apple's (AAPL, Fortune 500) iTunes and Amazon's (AMZN, Fortune 500) Cloud Drive.
The company also unveiled Google Wallet, which will allow customers to pay for items using their smartphones, and it launched Google Offers, a Groupon competitor.
But Google also shut down several products that weren't working, such as Google Health and PowerMeter.
"Our focus is more wood behind fewer arrows," said Page. "I'm very happy with our progress."
Still, the free spending has made some stock analysts cautious. Page lashed back at that criticism, noting that when Google started its search engine, no one believed the company could monetize that besides the occasional banner ad.
"Fast forward to today, it seems like we're playing the same movie all over again," he said. "We're optimizing our products for long-term success. Well-run technology businesses ... make a lot of money over time."
By the numbers
Google also reported its sales and earnings Thursday.
The search giant said its net income in the second quarter rose to $2.5 billion, up 36% from a year earlier.
Results included one-time charges totaling $1.06 per share. Without the charges, Google said it earned $8.74 per share. Analysts polled by Thomson Reuters, who typically exclude one-time items from their estimates, had forecast earnings of $7.85 per share.
Profit rose as both the number of clicks on Google's ads and the amount that advertising partners pay per click increased substantially: Paid clicks surged 18% and cost per click grew 12% compared to last year.
Sales for the Mountain View, Calif., company rose 32% to $9 billion. Excluding advertising sales that Google shares with partners, a figure also known as traffic acquisition costs, the company reported revenue of $6.9 billion, which topped analysts' forecasts of $6.6 billion.
Shares of Google (GOOG, Fortune 500) jumped 12% after hours.
Still, not all the news has been positive for Google, which has recently landed in antitrust crosshairs.
The Federal Trade Commission began investigating the company for evidence of abusive practices, and a federal judge rejected Google's planned settlement deal in its attempt to create a universal online book library.
The Department of Justice also heavily scrutinized the company's recent purchase of flight data software company ITA, and Google set aside $500 million for a potential settlement with the DOJ regarding the company's advertising practices. The DOJ is currently studying Google's proposed $400 million purchase of digital advertising toolmaker Admeld.
Late last month, French search company 1plusV said it would seek $423 million in damages from the American search giant over alleged anticompetitive practices.