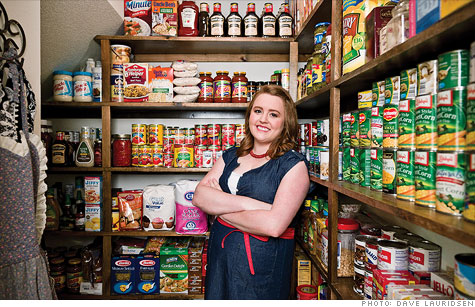 80 jars: College student Lauren Liggett -- a coupon newbie -- has filled up her parents' house with staples, such as this stash of tomato sauce.
(Money Magazine) -- Lauren Liggett, a 22-year-old college student from Carthage, Mo., found herself hooked the moment she saw the pilot episode of the TLC reality show "Extreme Couponing" in December. She began scouring the Internet for couponing websites, bought copies of the Sunday newspaper for the circulars, and headed to the grocery store to shop for her family -- her mom, Joyce, a realtor, and her dad, Larry, a retired IBM engineer who works part-time as a car salesman.
The Liggetts are not struggling financially -- they have a low-six-figure income -- but since Lauren lives at home and her parents are paying for college, she wanted to help out. On that first shopping trip, she presented her coupons to the cashier and felt the adrenaline rush of watching her total drop from $263 to $50. "Pretty good for my first time!" she recalls.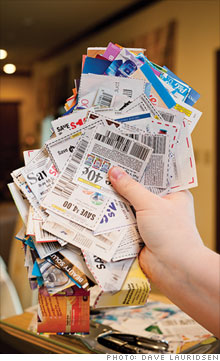 Today Lauren has slashed her family's monthly grocery bill from $400 to $100, and the bulging cupboards, pantries, and spare room can make the Liggetts seem like survivalists bracing for nuclear war: 288 rolls of toilet paper, 80 jars of tomato sauce, and 40 bottles of men's body wash.
There's no baby in the house, but Lauren couldn't resist buying 30 containers of infant formula on sale for $3.78 each. Because she had collected piles of $5-off coupons, she earned a $1.22 store credit on each sale -- the holy grail to serious couponers. (She used her credit to buy ribs for a Memorial Day feast and donated the formula to tornado victims in nearby Joplin.) As couponing became an obsession, her mom started to worry. "Your eyes light up like a slot machine whenever you see a deal," Joyce told her. "Admit it, you're an addict!"
"I'm not an addict," Lauren replies. "A lot of friends and family make fun of me, but we're not going to have to buy toothpaste and shampoo for a long time because we've gotten it for free!"
Welcome to America's new coupon craze. It began nearly three years ago as a sensible response to an economic catastrophe but has since morphed into something more complex -- a national fixation with refusing to pay retail that has turned otherwise normal families into coupon-clipping, Dumpster-diving (for circulars), cashier-pestering stockpilers who march through grocery stores with bulging binders of coupons and fill shopping carts with more free jars of mustard and cat food than they could ever use in a lifetime.
Shame-free shopping
After declining for more than a decade, coupon use rose sharply in October 2008 as the economy collapsed, and it soared 27% in 2009, according to the marketing firm Inmar. With unemployment still high and consumers still jittery, couponing has not dropped during the recovery, holding steady at 3.3 billion redemptions last year, 2.1 billion for food alone.
The stigma of couponing as a downscale activity is fading. In fact, the primary drivers of coupon growth are affluent households with income of $100,000 and higher. Women, who do most of the shopping in American families in the first place, are leading the charge.
While rabid couponers who score $1,000 worth of free groceries are a small and at times ridiculed minority, they have inspired the rest of us to wonder why we can't shave 25% to 50% from our weekly spending for food, household cleaners, and the like to put toward retirement or college. And companies like Groupon, a 2½-year-old startup that skyrocketed to $760 million in sales last year, have managed to turn couponing into a hip social-networking experience.
E-mail The Help Desk your household budget questions.
Stephanie Nelson, who started her free site CouponMom.com a decade ago, had only 200,000 members in 2008. Now she has 4.7 million and a staff of 13 scouring the Internet. A big spike came when Extreme Couponing began airing. "If people ever were embarrassed about couponing, they're not anymore," she says. "They see people on TV saving money and say, 'Okay, I can try that.' " Her site traffic has jumped from 35,000 daily visits in December to 175,000 today.
"It used to be that if you stood in line at the grocery store with coupons, you felt that the people behind were judging you negatively -- you felt like a penny pincher," says Dan Ariely, a leading behavioral economist and author of "The Upside of Irrationality." "You were right; they were judging you. But one of the achievements of Groupon is that it says there are lots of other people like you -- and they're affluent, Internet-savvy consumers. It's all about how you frame coupon use in people's minds."