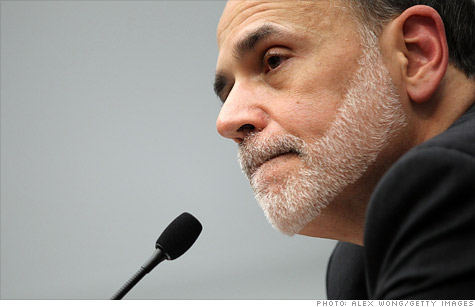 "Self-inflicted wound" is how Fed Chairman Ben Bernanke described what would happen to the economy if the debt ceiling isn't raised.
NEW YORK (CNNMoney) -- No one knows what will happen to the economy if lawmakers fail to reach a debt ceiling deal by Aug. 2.
Except this: It won't be good.
For starters, interest rates could shoot up and stock prices could plummet -- leaving Americans less well off and less willing to spend, to say nothing of having less economic confidence going forward. The same goes for business owners and investors.
On top of that, the federal government won't be able to pay 44% of its bills worth an estimated $134 billion, according to a Bipartisan Policy Center analysis.
On an annualized basis, that's like cutting spending by $1.6 trillion -- which is nearly all of discretionary spending, including defense. Looked at another way, it's like slashing $33.5 billion a week.
Technically, it wouldn't be a "cut" in spending so much as a postponement. That's because the bills the Treasury Department puts off will have to be paid once the debt ceiling is raised. It is, after all, money owed for goods and services already provided, government benefits already earned or agency funding already appropriated.
"But that doesn't mean those who are cash-strapped in August don't cut back on their spending," said Chad Stone, chief economist at the Center on Budget and Policy Priorities.
All those effects combined would -- irony alert! -- worsen the two things everyone swears they want to improve: the country's unemployment rate and the deficit.
"If interest rates rise, that's clearly going to reduce investment. Uncertainty will rise, that will reduce the ability of firms to hire and invest," Federal Reserve Chairman Ben Bernanke told the Senate Banking Committee this week.
And a 40% reduction in government spending would hurt, he added. "So I can only conclude that this would be very bad for jobs."
Moreover, with higher interest rates, the cost of U.S. debt will rise. And if jobs are lost, revenue paid into federal coffers will fall and put more pressure on the government to spend money through safety net programs such as unemployment benefits.
"It would be a self-inflicted wound," Bernanke said bluntly.
And while Americans would suffer, so would other economies around the world.
World confidence in the political will of U.S. lawmakers would be shaken. And the global financial system -- which relies on the AAA credit rating of the United States -- would be shaken if credit ratings agencies downgrade U.S. Treasuries.