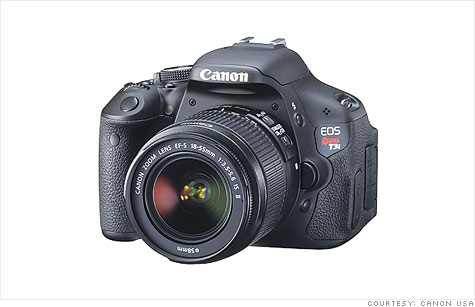 Canon Rebel T2iT
NEW YORK (Money Magazine) -- Electronics are a bargain hunter's heaven (even after the Japanese earthquakes, tech firms absorbed higher costs without raising prices). You can always count on manufacturers to improve their products every nine to 12 months -- and prices to decline as each model nears the end of its life cycle. To make room for all this new stuff, retailers rid their shelves of older gadgets before they become obsolete.
"If you are comfortable with a year-old product, you can get some amazing deals without sacrificing quality," says Sally Smith Clemens, product manager for Olympus Imaging America. Here's how:
If You Want It Now
First, do a quick price search. Go to Google Product Search (google.com/prdhp), which delivers a list of online and brick-and-mortar retailers that sell products you want and shows exactly how their prices compare -- plus shipping and taxes for your zip code.
Rick Broida, author of CNET's The Cheapskate blog, says Google Product is now his "go-to tool" for checking product prices over Nexttag or Shopzilla thanks to its exhaustive results and accurate pricing. Among the retailer names you may see: Newegg.com, eCost.com, and TigerDirect.com.
Factor in the return policy. When shopping for bulky items such as flat-panel TVs, scrutinize the site's fine print.
"Online retailers that offer the best prices often exclude TVs from their normal return policies," says David Katzmaier, a senior editor at tech-review site CNET. "That's a good tip-off that you shouldn't buy from that retailer."
Be a savvy price matcher. If you prefer buying from a physical store so you can play around with the goods first -- but you've seen a better deal online -- check the brick-and-mortar store's price-match policy before you buy (search the store's site for "price matching policy").
These days many merchants will meet lower prices from competitors. Their sites will tell you how to get the discount.
Know the code. With the rising cost of oil bumping up shipping fees, "we're seeing an increase in the amount you have to spend at online stores to qualify for free shipping," says Stephen Baker, vice president of industry analysis at NPD Group, a market research firm.
Before you hit the "buy" button, Google "promo code" and the store's name; you'll find any existing deals for discounts or free shipping.
If You're Willing to Bide Your Time
Wait for the right season. Prices for most gadgets bottom out the day after Thanksgiving -- also known as Black Friday -- with two main exceptions. Flat-panel TVs reach their lows (down 25%) in February and March, when new models hit stores.
Send The Help Desk your budget questions.
"You won't get burned, because TVs don't get that much better year over year," says Katzmaier. And entry-level laptops are deals in August, as retailers push back-to-school sales. (At retailer sites, click on the "student discount" section: You'll get the lowest prices -- and need not prove you're actually a student.)
Sign up with aggregators. Register with Dealnews.com, TechBargains.com, FatWallet.com, or LogicBuy.com. Every day, each of these sites shoots you thousands of tech discounts and coupons and you won't be overwhelmed by a stream of lame offers (human beings curate them). Get e-mail alerts from key manufacturers and retailers.
Get e-mail alerts from key manufacturers and retailers. "The heaviest discounting and the most deals come this way," says Dan de Grandpre, CEO of deal aggregator Deal-news.
Head to the website of the maker of the product you're interested in -- and those of retailers that carry it -- and add your name to their deal-alert lists; you'll be the first to know of any price reductions, plus any valuable extras (for example, HP recently offered up to 15% off ink cartridges). While you're at it, set up a Google Alert (google.com/alerts) and you'll get pinged every time a product you specify is mentioned in blogs or user forums. Little-known bloggers often uncover great sales.
100% THE TYPICAL MARKUP ON AN INKJET CARTRIDGE
What you don't know. Tech devices are usually very low-margin items. Manufacturers make their real money on stuff you buy to feed the devices, like toner for printers, DVDs, and Blu-ray discs.
EXPERT PICKS
From Rik Fairlie, former editor-in-chief of Computer Shopper magazine.
$750 CAMERA: Canon Rebel T2i T "Canon makes sophisticated cameras for amateur photographers. Though its latest model is a pretty good deal at $850, if you can do without the adjustable LCD and an improved Auto Scene mode -- and you can -- last year's Rebel award-winning T2i is an even better buy at $100 less. Buy it at crutch-field.com. and you'll get free shipping."
$417 COMPUTER: HP Pavilion g6t laptop "This back-to-school model rises to the top of the budget-laptop class. It packs all a well-rounded student needs -- a 2.13 GHz Intel processor, 4GB of RAM, a 15.6-inch high-def screen, and a 320GB hard drive -- at a lower than average price. You can buy it directly from HP's website."
$96 PRINTER: Brother HL-2240D Compact Laser "Inkjets are guzzlers of costly ink. If all you need is black-and-white printouts, monochrome laser printers are a much better value. The HL-2240D's double-sided printing saves costs -- and trees -- and it has a toner-saving 'draft' mode. The high-yield cartridge prints for 1.8¢ a page, nearly a penny less per page than monochrome inkjets."
$600 BIG-SCREEN TV: Samsung PN43D490 43-inch plasma "Most people can't distinguish between 720p and 1080p high-definition resolution. Why pay for something you can't see? Samsung's entry-level plasma 3-D offers a sleek design and 43 inches of big screen. The $600 price at amazon.com includes two free sets of 3-D glasses."