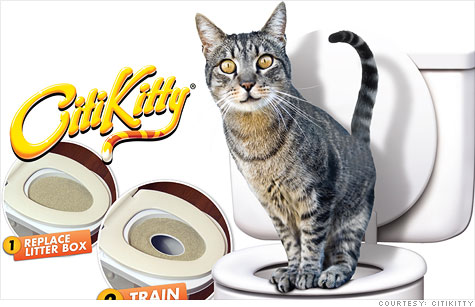 Cat-toilet-training kit CitiKitty could bring the end of stinky litter boxes.
NEW YORK (CNNMoney) -- The days of stinky litter boxes could be coming to an end.
Seven years ago, Rebecca Rescate, 32, put together a kit that helps train cats to use the toilet called CitiKitty. And now her company -- which has made $700,000 in sales, so far -- is projected to hit $1 million in revenues by yearend.
Talk about a royal flush.
This week, Rescate will appear on the ABC show ''Shark Tank'' for the second time.
The show, produced by Mark Burnett, known for "Survivor" and "The Apprentice," has entrepreneurs trying to persuade five wealthy business people, called "sharks," to invest in their businesses.
During her May 13 appearance, Kevin Harington invested $100,000 in CitiKitty for a return of 20% equity. But the publicity caused her sales to spike -- bringing in $350,000 that month alone. The demand forced Rescate to hire six temporary, part-time workers to keep up with orders.
CitiKitty, which retails for $24.98, helps to transition cats away from the litter box. The product -- which consists of a series of trays -- is filled with litter and inserted underneath the toilet seat and over the mouth of the commode. The first tray is solid; but the follow-up trays have holes of increasing size in the center of them, which means the tray and the litter over time disappear. In the end, the cat is using the toilet without a tray or litter.
Most people were introduced to a toilet-using cat in "Meet the Parents," the 2000 comedy starring Robert De Niro and Ben Stiller. In that movie, De Niro's character owned a Himalayan cat named "Mr. Jinx," who squats on the toilet and relieves himself.
The image was startling but intriguing for many litter-box-cleaning cat owners.
"Cats are the number-one companion animal and with that regard there's a huge market," said Jason Merithew, a spokesman at the American Animal Hospital Association, who admits he's thought about springing for a toilet-training kit for his cat, mostly to avoid cleaning the litter box.
"From the pet-health side of things it's very important to clean out the litter box daily. If it's a dirty litter box it could cause some issues where the cat might not want to go in there and start relieving themselves elsewhere."
A roasting pan of litter
While sharing a cramped Manhattan apartment with her husband, Rescate got the idea for CitiKitty.
"You barely have enough room for your winter jacket, let alone a litter box," said Rescate. So she got rid of her litter box, filled a roasting pan with cat litter and placed it inside her toilet. Soon, Samantha, their 11-year-old cat, was hopping up on the toilet to do her business.
"I knew from the first moment Samantha tinkled that there would be millions of other people who would want to do this," she said.
Two similar products -- one cost $100 and the other lacked clear directions -- left plenty of room for her adaptation, she said. How-to videos are published on CitiKitty.com.
Rescate, who studied business and graphic-design in college before working at a software-development company, always enjoyed product design. While her high-school classmates read novels on the beach, Rescate stuck her nose into books about corporate branding.
Even so, the transition to being an entrepreneur was not easy. "I hadn't launched a product before and I felt I had a lot to learn," said Rescate. "I was extremely fortunate in that it has one of those head-turning, 'wow' factors."
After putting down $20,000 of her own money -- used mostly for website design and graphic design while her family loaned warehouse space -- CitiKitty was profitable within 30 days thanks to low overhead. This summer she moved the business out of her home just north of Philadelphia. She also hired her first employee last fall. She chose a manufacturing company close to home to keep an eye on the process.
"The last thing you want is to do this large run in China, you sign off on it, and when it gets here in a container it's all wrong," said Rescate. "My manufacturer is located 30 minutes from me, and so I know everything that's going on."
Soon the kit will be sold in select Walgreens outlets; it's already been available through CitiKitty.com, Walmart.com, about 200 pet stores nationwide and several online marketplaces devoted to pet products.
She didn't stop there. In ''Meet the Parents,'' Mr. Jinx didn't know how to flush. And Rescate -- always on the lookout for other business opportunities -- came up with a companion product to her toilet-training kit to remedy this problem: an automatic toilet flusher activated by a motion-sensor ($189).
She also recently rolled out a line of cat treats: bonito flakes made from Skipjack tuna fished in Asia.
"I've never seen a cat go so crazy for a treat," she said.