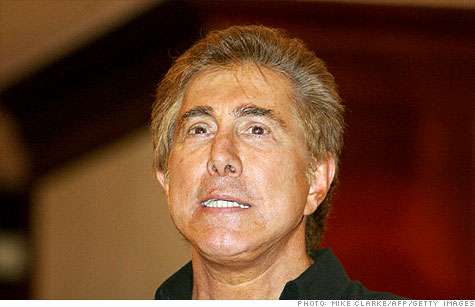 Steve Wynn had some harsh words for the Obama administration.
NEW YORK (CNNMoney) -- Billionaire CEO Steve Wynn used his company's earnings call to trash President Obama and his economic policies Monday -- calling the administration a "wet blanket" on the business community.
"I'm saying it bluntly, that this administration is the greatest wet blanket to business, and progress and job creation in my lifetime," Wynn said in response to a question about Las Vegas real estate.
Wynn then expanded on that idea in a 400-word soliloquy, before fielding a follow-up question on a planned real estate project in Macau.
"The guy [Obama] keeps making speeches about redistribution, and maybe we ought to do something to businesses that don't invest or hold too much money," Wynn said. "We haven't heard that kind of talk except from pure socialists."
Wynn described himself as a Democratic businessman, and supporter of Harry Reid, before adding that, "I support Democrats and Republicans."
Wynn's company, the resort and casino operator Wynn Resorts (WYNN), actually did quite well in the second quarter, earning $122 million or 97 cents per share.
But Wynn said he could be doing even more if not Obama. His company alone could add 10,000 jobs in Las Vegas, but he is "afraid to do anything in the current political environment in the United States."
"The business community in this country is frightened to death of the weird political philosophy of the president of the United States," Wynn said.
Some business leaders have cited an uncertain regulatory atmosphere as a reason for the slow pace of hiring. But there are plenty of examples of individual companies -- like Google -- that are hiring at a breakneck pace.
And while hiring is slow, mergers and acquisitions are heating up, and investors are being rewarded with stock buybacks and dividend hikes.
Wynn did not focus exclusively on the administration, although his harshest criticisms were reserved for the president. He also blasted the debate over the debt ceiling.
"Everybody is so political, so focused on holding their job for the next year that the discussion in Washington is nauseating," Wynn said.
The Obama administration has not always been on the friendliest of terms with the business community, but the relationship has thawed this year.
The president acknowledged the tensions in February, telling members of Washington's most powerful business lobby that "we've had some pretty strong disagreements."
The White House has made concrete efforts to mend the relationship, including the hiring of chief of staff Bill Daley, who came over from JPMorgan.
But things won't improve, Wynn said, until Obama is out of the White House.
"Until he's gone, everybody's going to be sitting on their thumbs," Wynn said.