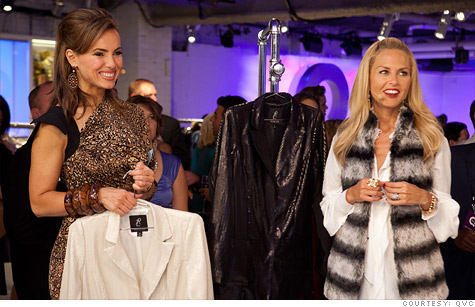 Stylist Rachel Zoe with QVC program host Lisa Robertson during a Fashion Week broadcast.
NEW YORK (CNNMoney) -- With a resume that includes eight years at Harry Winston and consulting gigs with Faberge and Ivanka Trump, Carol Brodie has earned her title as "Queen of Diamonds." This queen, however, also happens to know the value of a good deal.
When Brodie launched her own line of fine jewelry two years ago, she didn't head to Rodeo Drive or Fifth Avenue, she went straight to HSN -- the 24-hour home shopping network.
HSN's customers are snatching almost everything in Brodie's Rarity jewelry line up. Last month, a pair of 8.75-karat pave champagne diamond earrings, which retailed for over $3,000, sold out in one appearance -- at 3 a.m. in the morning.
"I sell much more jewelry than I ever could have done going the traditional route," she said.
Once scorned as cheesy and out-of-date, home shopping channels have gained luxury credibility thanks to an influx of high-end designers, such as Jonathan Adler and Badgley Mischka, looking to peddle their wares to a broader audience and bring in more revenue.
"The recession may be the best thing that happened to the home shopping networks because designers needed new outlets to offer more affordable prices," said Jack Plunkett, CEO of Plunkett Research.
By selling directly to the consumer, shopping channels eliminate the steep mark-ups taken at boutiques and department stores and offer more competitive pricing, said Plunkett.
To keep costs for her Rarities line of jewelry more affordable for the masses, Brodie works with 10-karat gold or gold vermeil and chooses less expensive champagne diamonds over white ones.
Even after cutting those costs, prices for her line of necklaces, rings and earrings, which are made with semi-precious and precious stones, still reach well past the $1,000 mark.
Nevertheless, the customers keep coming.
Discount luxury a click away
While HSN's executive vice president of programming, Bill Brand, insists "we are not about luxury," it's no secret that the network has made a significant effort to reel in high-end brands, particularly since CEO, Mindy Grossman, started at the company five years ago.
"Our transformation really began under the leadership of our CEO," Brand said. "She really understands that our customers want access to great brands and great products."
With previous experience at Ralph Lauren, Tommy Hilfiger and Nike, Grossman began by rebranding the network and updating the products and names associated with it.
Women's fashion designer Badgley Mischka was one of the first luxury brands to sign on with HSN in 2009. Since then, home decor designers Colin Cowie, Jonathan Adler and Nate Berkus and fashion designers Iman and Naeem Khan have all followed suit.
Hosting higher-end goods has boosted the shopping channel's business beyond even pre-recession levels. Last year, HSN brought in $3 billion in revenue, a 2% increase from 2006.
Competitor QVC, which has added an all-star lineup of its own that includes designers Isaac Mizrahi, Rachel Zoe, Judith Ripka and Dooney & Bourke, has fared even better with revenue of $7.8 billion in 2010, up 11% from 2006.
Over the last few years, "the world of better brands woke up," said Doug Rose, QVC's senior vice president. "We can do very significant volume."
In fact, QVC sold 110 million items of merchandise last year alone, helped in part by stylist-to-the-stars Rachel Zoe, who hawked over 25,000 $70 faux fur vests during New York Fashion Week in September.
Even for those who have made a name for themselves in a world of exclusivity, those kinds of numbers are hard to ignore.
As further enticement, the networks also offer these big-name designers a chance to show the public a more personal side.
"You can't do that on a store shelf," said HSN's Brand.
After years of appearing polished and poised, Brodie says she welcomed the chance to be herself and let her Long Island accent shine through. "I had always wanted to have a talk show, kind of like 'the jewelry Oprah,'" she said.
"We get a lot of calls from celebrities," Brand said. "All of a sudden, everyone wants to be at the party."