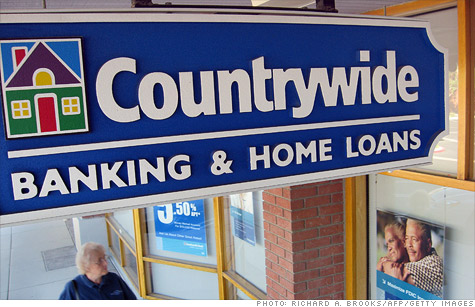 NEW YORK (CNNMoney) -- Borrowers who were overcharged by Countrywide Financial more than three years ago are finally going to get what's due to them.
The Federal Trade Commission said Wednesday that, as a result of a settlement reached with the mortgage lender more than a year ago, it is sending out checks totalling nearly $108 million to more than 450,000 former Countrywide borrowers.
The compensation was for overcharges made before the failing company was acquired by Bank of America (BAC, Fortune 500) in 2008.
"It's astonishing that a single company could be responsible for overcharging more than 450,000 homeowners," FTC Chairman Jon Leibowitz said in a prepared statement. "Countrywide's unconscionable behavior harmed American consumers on a massive scale and we are proud to be getting every single dollar back to hundreds of thousands of struggling consumers who can least afford to lose the money."
There were two categories of overcharges, according to Frank Dorman, an FTC spokesman. The first were tied to inspections, home maintenance, lawn mowing and other services that Countrywide provided to homes of borrowers in default.
Instead of directly hiring local vendors for those tasks, the company used their own subsidiary companies to hire the vendors -- and then had the subsidiaries mark up the fees, sometimes doubling them or more. They passed along the overcharges to the homeowners. Affected consumers will receive all those overcharges back.
Walk away from your mortgage? Time to get 'ruthless'

The second set of overcharges came in the form of false claims and fees to escrow accounts of borrowers who entered into Chapter 13 bankruptcies (this type of bankruptcy protection provides debtors with time to pay off what they owe). The borrowers weren't notified about the fees or charges at the time they were incurred. The FTC says they will get back the entire amount of those undisclosed fees or charges.
The action covered borrowers who were in default between January 1, 2005 and July 1, 2008. Many of the amounts are quite small; the average is about $240, but some borrowers will receive checks of several thousand dollars, the FTC said.
Short sale fraud plagues the housing market
The payments will start to go out on Thursday. Countrywide borrowers with questions about the program can call the redress administrator, Gilardi & Co. at 1-888-230-3196, or go online at the FTC's Countrywide Settlement page.