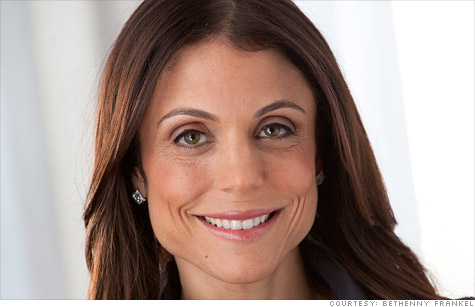 Reality star Bethenny Frankel turned $8,000 into $120 million.
NEW YORK (CNNMoney) -- In the past three years, Bethenny Frankel has proven she's more than just an attractive reality star; she's also a savvy businesswoman who has created a successful financial empire.
When Frankel began filming the hit Bravo reality show, "The Real Housewives of New York City," in March of 2008, the former natural foods chef had $8,000 in her bank account. Fast forward to this past April, when the 40-year-old entrepreneur sold her line of low-calorie ready-made Skinnygirl margaritas to Beam Global Spirits and Wines for a reported $120 million.
This month, her success continues with the launch of Skinnygirl sangria in stores across the country, and a new Skinnygirl shapewear line. As her third book, "A Place of Yes: 10 Rules for Getting Everything You Want Out of Life" (Touchstone) released in March, continues to reign on the New York Times Bestseller list, we asked Frankel to share some of her success secrets:
Have a personal mission statement. As an entrepreneur, it's important to identify your priorities and what you hope to accomplish with your business. Try to frame your statement in terms of action, and you'll find it helps to focus you in a very powerful way. For me, my business evolved from my own personal beliefs about eating well, promoting natural health, being fit, and solving problems.
Build a platform for your business. I joined the cast of Real Housewives exclusively for business. I had a column in Health magazine and was a spokesperson for Pepperidge Farm. But I wanted to build a large national audience for my Skinnygirl brand.
Remain true to your brand. Any product that I add to the Skinnygirl line has to be innovative, solve a problem for women, and help them to live healthier, better lives. My line is straightforward, honest, and doesn't make false promises. I've turned down a multitude of product ideas from headbands to diet pills.
If I wouldn't use a product myself, it doesn't become part of the Skinnygirl brand. When I made the deal with Beam Global, it was important to me to remain involved in the direction of the Skinnygirl low-calorie cocktails, and continue promoting and expanding the line.
When Frankel first pitched her Skinnygirl margarita idea to the big liquor companies, she received numerous rejections. Rather than admit defeat, she decided to make and distribute the drink herself.
Don't let setbacks derail you. I'm not a liquor expert. I'm just a woman who enjoyed margaritas and was bothered by the drink's 700-calorie count. I firmly believed there was a market for a ready-made low-calorie margarita that offered women flavor without the guilt.
Make your social media presence a priority. Social media is a way to authentically communicate with my fans and to find out who they really are, as well as determine what they want and need.
I give daily updates on new product launches, personal appearances, and what's new in my life, and see social media as a wonderful way to obtain feedback from my fans. I currently have over 582,000 Twitter followers, and 690,350 Facebook followers. My newsletter, website, Twitter and Facebook followers are engaged audiences who know me intimately.