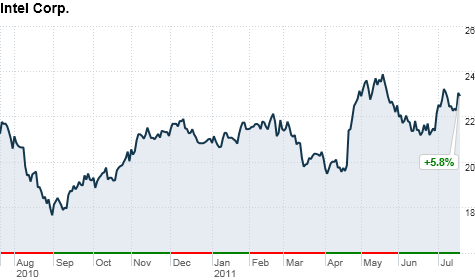 NEW YORK (CNNMoney) -- If the PC is dead, Intel hasn't gotten the memo.
The world's largest microchip maker stared down strong headwinds in its bread and butter personal computer business, and grew sales in that segment by 11%.
That's quite an accomplishment, considering U.S. PC shipments fell 5.6%, compared to the same three-month period a year ago, according to a closely followed study by Gartner. Worldwide PC shipments grew just 2.3%.
The consumer PC market had been growing strongly for years, driven primarily by the rise of low-priced netbooks, most of which featured Intel's Atom processor, designed for smaller devices.
But that segment of the market is being replaced by the iPad and other tablets, which Intel has struggled to get its chips into. Atom sales fell 15% in the quarter.
Intel's CEO Paul Otellini said on a conference call with investors that the consumer business remains mixed: PC sales in emerging markets like East Asia and Latin America are growing strong, but sales remain soft in more mature markets like the United States and Europe.
Corporate PC sales remained strong, Intel said, since many companies are in the midst of a so-called "hardware refreshment cycle." Businesses are buying up a slew of new PCs to replace their aging ones.
Otellini said the company is feeling "increasing confidence" about the second half of the year, and he predicted "modest growth" of 8% to 10% for 2011. That's down a bit from the company's previous forecast, but in line with Gartner's expectations of a 9.3% rise.
Intel expects PC-related revenue, however, to grow even stronger, as customers are buying computers with more powerful processors. Intel's chips are in about 80% of the world's PCs.
Shares of Intel (INTC, Fortune 500) were down very slightly after hours after initially rising.
Analysts still expressed concern that Intel has struggled to take advantage of the rapidly growing smartphone market. Though the company has some exposure to mobile devices via its cloud computing business, Intel lacks the direct presence in the mobile market held by companies like Qualcomm and ARM Holdings (ARMH), the British chip designer whose processors are used by Apple (AAPL, Fortune 500) and other smartphone vendors.
Intel maintains that its chips will start appearing inside smartphones next year.
Rival Qualcomm (QCOM, Fortune 500), which is the largest mobile phone chipmaker, raised its outlook Wednesday after reporting quarterly profit and sales that exceeded analysts' expectations.
By the numbers
The Santa Clara, Calif.-based company said its net income in the second quarter rose to $3 billion, or 54 cents per share, up 2% from a year earlier.
Results included a one-time charge of 5 cents per share. Without the charge, Intel said it earned 59 cents per share. Analysts polled by Thomson Reuters, who typically exclude one-time items from their estimates, forecasted earnings of 51 cents per share.
Sales for the company rose 21% to a record $13 billion, topping forecasts of $12.8 billion. It was Intel's fifth consecutive quarter of record revenue.
Otellini said the company expects to grow annual revenue in the "mid-20% range," in-line with analysts' expectations of 22% annual growth.
Intel's chief PC microchip rival, AMD (AMD, Fortune 500), is scheduled to release its results tomorrow.