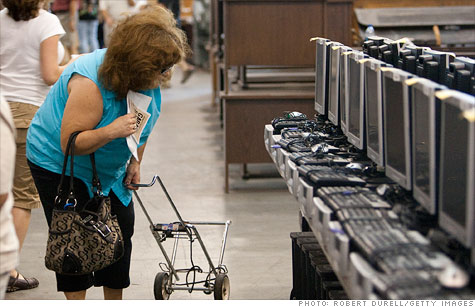 NEW YORK (CNNMoney) -- Shipments of personal computers in the United States tumbled in the second quarter as manufacturers, retailers and consumers shift their focus to tablets.
U.S. PC shipments fell 5.6%, compared to the same three-month period a year ago, according Gartner. Worldwide PC shipments grew just 2.3%, well below the tech consultancy's modest 6.7% growth forecast.
"Given the hype around media tablets such as the iPad, retailers were very conservative in placing orders for PCs," said Mikako Kitagawa, principal analyst at Gartner. "Instead, they wanted to secure space for media tablets."
The consumer PC market had been growing strongly since 2007, driven primarily by the rise of low-priced netbooks. Now, that segment of the market is being replaced by the iPad and, to a much lesser degree, some Google (GOOG, Fortune 500) Android, Research In Motion (RIMM) BlackBerry and Microsoft Windows-based tablets.
Apple (AAPL, Fortune 500) has sold nearly 20 million iPads in their first year on store shelves. Meanwhile, U.S. PC manufacturers have been underselling their year-ago results by about a million devices.
Acer, the world's fourth-largest PC manufacturer, was the biggest loser. The Gateway owner shipped 20.4% fewer computers last quarter than it did a year ago.
By contrast, Lenovo's global shipments grew 22.5%.
In the U.S., No. 1 PC seller Hewlett-Packard's (HPQ, Fortune 500) shipments fell 1.2% and No. 2 Dell (DELL, Fortune 500) tumbled 9.8%.
It wasn't all grim news. Apple, the country's third-largest PC seller, grew its shipments by 8.5%, putting to rest fears that iPad sales would cannibalize its Macintosh line. Apple frequently touts is so-called "halo effect," in which satisfied buyers of less expensive Apple items like iPods, iPhones and iPads buy the more expensive Macs for their next PC purchases.
Toshiba's U.S. shipments rose 3.3%, while all others fell 6.9%.
PC growth is mostly coming from emerging markets, particularly in the Asia-Pacific and Latin American regions, while PC sales in more mature markets like North America and Europe are sinking in favor of tablets.
But one source of growth in the mature markets the corporate world. Many companies are in the midst of a so-called "hardware refreshment cycle," in which they buy a slew of new PCs to replace their aging ones. The most recent refresh has been exacerbated by corporations stretching the life of their PCs in recent years due to the combination of the Great Recession and Microsoft's (MSFT, Fortune 500) unpopular Windows Vista operating system.
Overall, however, the PC market is "shifting to modest, but steady growth," Kitagawa said.
As a result of the tablet boom, Gartner said it expects PC shipments in the U.S. and other mature markets to grow less than 10% annually, on average, between 2011 and 2015 thanks to "a general loss in consumer enthusiasm for mobile PCs."
That represents a sizeable shift in Gartner's earlier expectations, which were colored by the belief that consumers would continue buying laptops as their second and third PCs. Gartner reduced its 2011 PC shipment growth forecast a whopping five percentage points, ratcheting it down from 15.9% to 10.5%.