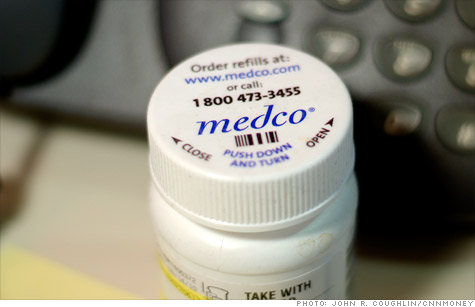 Pharmacy benefits manager Express Scripts is buying Medco in a $29 billion deal.
NEW YORK (CNNMoney) -- While a multi-billion dollar merger of Express Scripts and Medco is far from a done deal, analysts say it could potentially save money for consumers if it is approved by regulators.
"The hope for consumers, which is the case that these companies will make to regulators, is that the merger will drive down overall health care costs," said Morningstar analyst Matthew Coffina.
Still, Coffina said the benefits to consumers will be very indirect because of how prescription drug plans operate.
A merger of Express Scripts and Medco creates a much larger entity that could then use its new size and market dominance to bargain harder with drugmakers for better rebates and with pharmacy chains to get lower reimbursement rates on claims, said Coffina.
Both these changes would result in lower health care costs.
While consumers can buy drug coverage plans directly from pharmacy benefits managers such as Express Scripts (ESRX, Fortune 500) and Medco (MHS, Fortune 500), most consumers have both health insurance and drug coverage through their jobs.
Companies such as Medco and Express Scripts manage the drug plans for employers. So if an Express Scripts-Medco deal allows these companies to pass along cost savings to employers, Coffina said the trickle down effect to consumers could be in the form of lower premiums or more generous drug coverage plans.
On Thursday, Express Scripts announced it had signed a $29 billion deal to buy Medco Health Solutions.
The deal, which is subject to regulatory approval, would merge Medco, the No. 1 pharmacy benefits manager, and Express Scripts, No. 3.
Coffina said that aspect of the merger means regulators will take an especially hard look at the deal to see if consumers will be better or worse off as a result.
The companies said that Medco shareholders will receive $71.36 per share, in cash and stock, based on the Wednesday closing price, for a total of $29.1 billion.
The new company will be called Express Scripts Holding Company. Upon closing of the deal, Express Scripts shareholders will hold about 59% of the holding company and Medco shareholders will own 41%.
The companies said the merger will reduce costs for customers through greater efficiency, partly by streamlining the supply chain.
But the proposed merger did have some critics. The National Community of Pharmacists Associations said the deal between Express Scripts and Medco "would reduce competition and raise health care costs."
"Congress and the Federal Trade Commission should reject this proposed merger," NCPA's B. CEO Douglas Hoey, said in a statement.
"As [regulators] review this proposal, they should not overlook the near-monopoly it would establish in certain regions of the country and in the national mail order market, both for traditional and generic drugs," he said.
Prescription plan management has grown in significance as the nation's population ages and Americans rely more on health insurance coverage.
The new company would compete with CVS Caremark (CVS, Fortune 500), which combines a traditional pharmacy chain with a prescription management plan, as well as pharmacy chains Walgreen (WAG, Fortune 500) and Rite Aid. (RAD, Fortune 500)
Separately, Medco also announced Thursday that it will not renew its contract with UnitedHealthcare (UHC) after it expires on Dec. 31, 2012.
Although the merger announcement seemed to overshadow this news, Coffina and others pointed to its relevance.
UnitedHealthcare is Medco's largest customer, according to Jeff Jonas, analyst with Gabelli & Co. He estimates that UnitedHealthcare accounts for about 15% of Medco's sales and about 5% of its profits.
"Medco has lost three big contracts before this. Losing UnitedHealthcare is a big blow," he said. "It's not surprising then that Medco was open to a merger."
About 12 million UnitedHealthcare consumers get their prescription drugs coverage through Medco, according to UnitedHealthcare spokesman Don Nathan.
Nathan said that, beginning in 2013, those consumers will see a "seamless transition" into UnitedHealthcare's in-house PBM, OptumRx.
-- CNNMoney writer Aaron Smith contributed to this report.
-- Gabelli & Co. owns shares of both Medco and Express Scripts and Jeff Jonas also personally owns shares of Medco.Matthew Coffina does not own shares of Medco or Express Scripts.