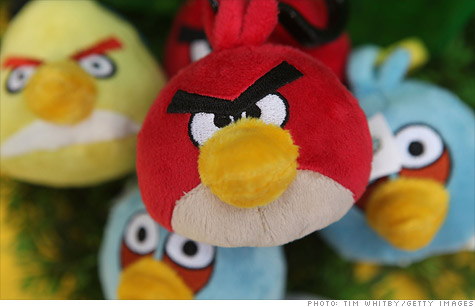 Angry Birds merchandise could be this year's hottest back to school trend.
NEW YORK (CNNMoney) -- Forget skinny jeans, sweater vests and iPads. This year's back to school must-have is anything having to do with Angry Birds!
Almost two years after it launched, the highly-addictive Angry Birds iPhone app in which birds are slung at pigs living in wood houses is still the No.1-selling paid app. Now for the first time, Angry Birds' digital popularity is spilling over into the real world -- just in time for the back to school shopping frenzy.
Shipments of "Angry Birds" related goods -- everything from toys to backpacks and blankets -- have surged 500% just in the past five months, according to Panjiva, a company that tracks global shipments to the United States from about 500,000 global suppliers.
Panjiva CEO Josh Green said this huge jump shows that stores are making a pretty substantial bet that Angry Birds merchandise will be hot sellers.
"I have to say it could be a pretty good bet," said Green.
Panjiva first started tracking imports of Angry Birds merchandise into the United States in January. Green said the volume of imported Angry Birds products grew from a modest 8 shipments in January to more than 42 shipments in June.
"Some of these Angry Birds products are absolutely school related," Green said.
Commonwealth Toys, which has the worldwide license for Angry Birds, said it has been importing Angry Birds backpacks, blankets, magnets, piggy banks and key chains to hit stores in time for back to school.
Other hot products include card games, Angry Birds backpack clips, wallets and Angry Birds plush toys that make a sound when you throw them.
No. 1 toymaker Mattel (MAT, Fortune 500) launched its "Angry Birds Knock On Wood" table-top game in May and it quickly sold out on Amazon. (AMZN, Fortune 500) Mattel said the company has had to quickly increase production to meet demand.
"I was introduced to the Angry Birds by colleagues of mine. Then I learned that my nine-year old nephew is already a fan," said Green. "This is a brand whose popularity cuts across all ages."
For fans of the pigs -- the game characters that suffer the wrath of the angry birds -- companies are importing the King Pig plush toys, pigs with helmets plush toys, pigs with moustache plush toys and angry piglets plush toys.
But a comparison of the toy pig imports with the toy Angry Birds imports shows fans clearly favor the birds.
"For every toy pig entering the country there are six Angry Birds toys coming in," said Green. "So the pigs should be very afraid."