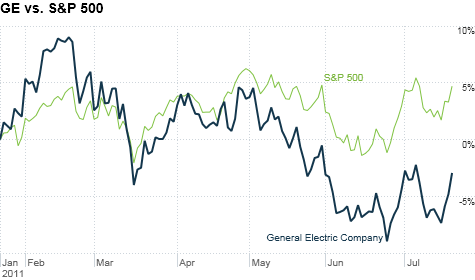 Click chart to track GE shares.
NEW YORK (CNNMoney) -- If General Electric's second-quarter earnings are any indication, investors can put fears of a global industrial slowdown on hold.
General Electric, considered to be a bellwether for the industrial sector because of the breadth of its businesses, reported second-quarter earnings Friday that topped analyst estimates.
And emerging markets -- a sector into which GE has plowed investment dollars -- paid off big time.
International revenue accounted for $13.4 billion -- or almost 60% -- of the company's industrial division revenues, a 23% increase. GE reported that revenue in India, China and Africa all grew at a double-digit percentage pace.
Overall, the Fairfield, Conn.-based industrial conglomerate logged earnings of $3.7 billion, or 34 cents per share, up 17% from a year earlier.
Analysts polled by Thompson Reuters had been expecting GE (GE, Fortune 500) to report earnings per share of 32 cents.
"With our fifth consecutive quarter of double-digit earnings growth, we continue to execute in a volatile environment," GE CEO Jeff Immelt said in a statement.
Immelt attributed the growth to strong results from GE Capital, as well as the company's healthcare, oil and gas, transportation and aviation divisions.
Revenue came in at $35.6 billion, exceeding expectations of $34.7 billion. But revenue was down 4% from the same period last year. The company attributed the slide to a loss of revenue from its NBCU division, which has been sold.
GE Capital, the company's financial services division, earned $1.7 billion after tax, more than double its year-earlier results. The company's biggest division is still recovering from the huge losses suffered during the recession.
Immelt acknowledged weakness in the company's energy business, and said the division's earnings and margins were down as a result of pressure in the renewable energy sector.
"We are very encouraged by second-quarter orders and earnings momentum across the company," Immelt said. "We are optimistic about our growth prospects in the second half and beyond."