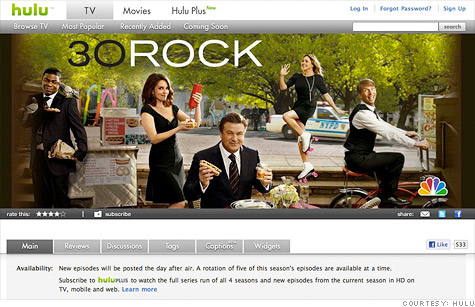 NEW YORK (CNNMoney) -- With so many rumors about a Hulu buyout swirling around, it might be easier to list who isn't interested in snapping up the video streaming service.
Hulu's co-owners -- News Corp.'s (NWS) Fox, Comcast (CMCSA, Fortune 500), Walt Disney Co.'s (DIS, Fortune 500) ABC and private equity firm Providence Equity Partners -- reportedly put the company up for sale last month.
And as the big-name media companies look to unload Hulu, a star-studded list of tech firms have been rumored to be circling: Yahoo (YHOO, Fortune 500), Google (GOOG, Fortune 500), Amazon (AMZN, Fortune 500), AT&T (T, Fortune 500) and Verizon (VZ, Fortune 500).
Just when it seemed the buyer list couldn't get more dazzling, several reports on Friday surfaced that Apple (AAPL, Fortune 500) is now interested as well. A Hulu spokeswoman said the company is "not commenting on this," and Apple did not respond to a request.
Whoever lands Hulu, which is rumored to be valued between $1 billion and $2 billion, will net quick benefits in the red-hot online video space -- but they'll also inherit some problems.
Any Hulu buyer would score instant competitive play with behemoth Netflix (NFLX) -- which is facing backlash for hiking prices on plans that include DVDs and streaming, likely because content costs are increasing to as much as $2 billion next year.
Hulu itself has reportedly run into trouble securing long-term deals with content providers, which forced it to axe last year's plans for an initial public offering.
And once Disney and Fox cash out, they're a lot less likely to play nice with Hulu.
"Hulu is highly dependent on a continuing stream of new content from the current owners," says eMarketer analyst David Hallerman. "Fox and Disney are not going to hand low-cost content contracts to whoever buys Hulu."
Instead, Disney and Fox "could just start playing in another sandbox," Hallerman says, because they wield a lot of power as the content owners.
A loss of content could dent Hulu's impressive number of users -- which is key to drawing in advertisers.
Hulu attracted 26.7 million unique U.S. users last month, according to data that comScore released last week. Those viewers watched nearly 160 million TV programs or movies on Hulu in June, and they spent more than 3 hours each watching, on average. That time spent watching is second only to YouTube and other Google-owned sites.
Most drool-worthy for advertisers: Hulu generated the highest number of video ad impressions of any website in June. Those 1 billion ads reached 8.6% of the U.S. population.
But all of these videos and ad impressions hog a lot of bandwidth, Hallerman points out -- which means Verizon or AT&T could be the smartest match for Hulu.
"As major ISPs, they control the infrastructure," Hallerman says. "They can choose to prioritize Hulu streaming if they feel like it."
With broadband caps and content contracts not yet major concerns, Hulu's sales have grown quickly. In an April blog post, Hulu CEO Jason Kilar said that Hulu's revenue is on track to hit $500 million this year, up from $263 million in 2010.
But he said nothing about profitability. Hulu bears some heavy licensing costs for its content: Kilar said the "content community" -- meaning the owners of the shows Hulu streams -- are on pace to earn $300 million this year through Hulu.
Hulu expects its subscription-based service, called Hulu Plus, to exceed 1 million users by the end of the year. The premium service costs $7.99 a month and allows subscribers to view episodes from the current season of participating shows, as well as past seasons.