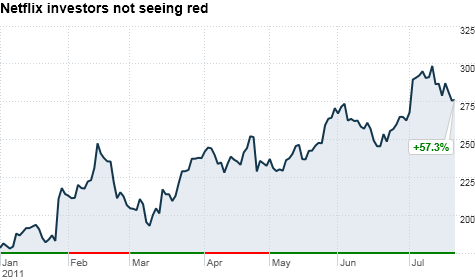 Netflix has been a super stock so far in 2011. But shares have retreated from their highs after the company announced a price increase. Will earnings get the stock moving higher again?
NEW YORK (CNNMoney) -- When Netflix announced new prices for its DVD and streaming combo subscription plan a few weeks ago, many Netflix customers were unsurprisingly outraged.
If you want to still get those little red envelopes in the mail in addition to instant streaming, you have to pay a lot more. The cheapest 1-DVD/unlimited streaming option will soon cost $15.98 a month, a 60% increase from the current $9.99 rate.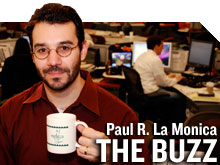 But while investors initially cheered the fact that Netflix was proving Ben Bernanke wrong about price hikes being "transitory," (the stock hit an all-time intraday high of $304.89 a share the day after the new pricing was announced) shares have since cooled.
Netflix (NFLX)'s stock has fallen nearly 10% from its peak. And with the company due to report its second-quarter results after the closing bell this coming Monday, are investors nervous that the bold pricing move could backfire and lead to a big wave of subscriber defections?
That might be a stretch. Netflix clearly remains the leader in terms of video. But it would be cavalier of the company -- or investors -- to completely dismiss competition.
Sure, DVD rental kiosk service Redbox now seems wounded. The company's parent, Coinstar (CSTR), announced late Thursday that Mitch Lowe, the widely respected president of Redbox, was stepping down. Shares of Coinstar plunged 6% Friday on the news.
But investors, in their rush to penalize Coinstar because it's losing Lowe, ignored the fact that the company raised its earnings guidance for 2011. That's largely due to strength at Redbox.
Yes, Redbox still doesn't have a clear digital strategy to compete with Netflix on the streaming front. But as long as it offers DVDs at a price of $1, it may not need one.
Besides, Redbox isn't the only game in town aside from Netflix.
Hulu, the online video firm currently owned by media conglomerates Walt Disney (DIS, Fortune 500), News Corp (NWSA, Fortune 500)., Comcast (CMCSA, Fortune 500) and private equity firm Providence Equity Partners, is reportedly in talks to be sold.
Apple is the latest tech titan to take a turn on theHulu buyout rumor merry-go-round, with several reports suggesting Apple (AAPL, Fortune 500) may want to use some of its $76 billion in cash to purchase the site. But Yahoo (YHOO, Fortune 500), Google (GOOG, Fortune 500), Verizon (VZ, Fortune 500), AT&T (T, Fortune 500) and Amazon (AMZN, Fortune 500) have also been cited as potential suitors.
Needless to say, if a tech or telecom firm takes over Hulu, they might be able to do a better job of competing against Netflix. The current ownership structure is muddled at best. Three "old" media firms having a say in how to best manage a "new" media property is arguably three too many. So Netflix may have more to fear from Hulu if/when it is finally sold.
Finally, Netflix would be unwise to ignore the company that it almost put out of business: Blockbuster. Satellite TV firm Dish Network (DISH, Fortune 500), which acquired Blockbuster out of bankruptcy, made an interesting move late Thursday. It announced that is keeping more than 1,500 Blockbuster stores open for business.
Dish, since acquiring Blockbuster, has been aggressively touting the cheaper prices that Blockbuster offers with its Total Access plans. The company even put out a press release two days after Netflix's price hike with the headline of "Blockbuster Rescues Furious Netflix Customers."
Of course, Blockbuster does have a significant hole in its strategy.
While it can talk til it's blue in the face about how awesome Total Access is because it offers video games, quicker release dates for movies from major studios and the option to get videos in a store as opposed to by mail, Blockbuster's streaming option isn't as good as Netflix's.
If you want to rent a movie "on demand," you are stuck paying per title. Whether Dish changes this and launches a true unlimited "on demand" option remains to be seen. But I'd argue that if it doesn't, Netflix will remain in the streaming driver's seat.
So what does this all mean for Netflix and its stock? Why have shares corrected in the past week? It probably has less to do with concerns about competition as it does the fact that Netflix shares are trading at a borderline insane valuation.
The stock is currently fetching a multiple of more than 60 times 2011 earnings estimates. Netflix, despite the recent pullback, is still up nearly 60% year-to-date.
That's because Netflix continues to grow like a weed. Analysts expect earnings per share to surge 26% in the second quarter while sales are forecast to rise at an astonishing 52% clip.
The key of course will be just what the price hikes do to guidance.
As long as Netflix doesn't have a large number of ticked-off customers leaving, it's possible that Netflix could be even more profitable with fewer subscribers thanks to higher prices. After all, you know the joke about lowering prices and hoping to make it up on volume.
So if Netflix delivers on what are certainly lofty expectations, it wouldn't be shocking to see the stock head back towards (and maybe above) a perfect bowling score price.
Still, investors are wise to be a little wary. Netflix may still rule the video landscape. But its key rivals aren't going away -- and the stock appears to be valued as if Netflix is immune to competitive threats. That could be a mistake.
Reader comment of the week. The Rupert and James Murdoch show was surreal this week. It reminded me of the classic scene in "The Godfather Part II" when Michael Corleone went in front of Congress to profess ignorance of his family's criminal activities.
I joked on Twitter that "I keep waiting for Frankie Pentangeli to show up & say that he worked with Rupert's father in the olive oil business a long time ago."
David Gaffen from Reuters did me one better. He saw my Pentangeli line and raised me with a quote from Willie Cicci.
"When the boss says to push a button on a guy, I push a button," he tweeted.
Too funny. But the question is this. Did James or Rupert actually tell Rebekah Brooks to push a button on the phone hacking?
The opinions expressed in this commentary are solely those of Paul R. La Monica. Other than Time Warner, the parent of CNNMoney, and Abbott Laboratories, La Monica does not own positions in any individual stocks.