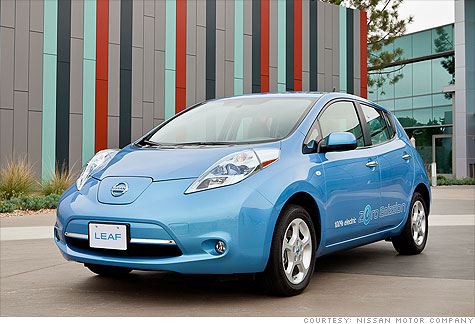 The Nissan Leaf earned a top 5-star rating from the National Highway Traffic Adminstration and a Top Safety Pick Award from the Insurance Insitute for Highway Safety.
NEW YORK (CNNMoney) -- The Nissan Leaf earned a top five-star rating in the federal government's new, tougher crash test rating system.

Under the National Highway Traffic Safety Administration's new rating system, all vehicles are given a single rating of one to five stars based on their scores in seperate front and side impact tests as well as resistance to rollovers.
The Leaf earned four stars for occupant protection in front-end crashes, five stars for side crash protection and four stars for resistance to rolling over, resulting in the overall five-star score.
The Leaf is an electrically powered plug-in car. It can go about 70 miles on a charge, according to EPA estimates.
NHTSA used updated crash test regimen, introduced last year, which includes a new side crash test in which vehicles slide diagonally into a pole, mimicking a car skidding into a light post or tree.
General Motors' Chevrolet Volt also recently earned a five-star NHTSA safety rating.
The Volt and the Nissan (NSANY) Leaf electric car were both recently given Top Safety Pick Awards by the privately funded Insurance Institute for Highway Safety. The Institute, which is financed by auto insurers, conducts a different set of crash tests from those conducted by the government. To earn a Top Safety Pick Award, a vehicle must earn top scores in all of the Institute's tests.