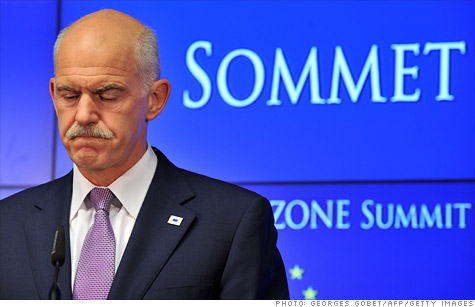 Greek President George Papandreou praised the EU bailout plan for his country as 'sustainable debt management.' But it prompted Moody's to downgrade the country, again.
NEW YORK (CNNMoney) -- Moody's Investors Service downgraded Greece again Monday, to one class above default, following a new bailout package from its European neighbors.
Moody's downgraded Greece's debt rating to "Ca" from the already junk rating of "Caa1," which is far below investment grade.
Moody's defines the "Ca" rating as "very near default." It is just one class above the lowest rating, "C," which is applied to bonds that are in default.
"The support package incorporates the participation of private sector holders of Greek debt, who are now virtually certain to incur credit losses," said Moody's, in its report on the downgrade. "If and when the debt exchanges occur, Moody's would define this as a default by the Greek government on its public debt."
On Thursday, leaders from the European Union unveiled an aid package for Greece worth €109 billion, or nearly $157 billion. The aid package will cover the country's financing needs, and involves lowering interest rates and extending the payback period on existing loans from the EU and the International Monetary Fund.
Greek President George Papandreou referred to the plan as "a sustainable debt management path." But Moody's was less than impressed.
"While the rating agency believes that the overall package carries a number of benefits for Greece -- a slightly reduced debt trajectory, lower debt-servicing costs, as well as reduced reliance on financial markets for years to come -- the impact on Greece's debt burden is limited," said Moody's.
Moody's also offered a mixed message as to the potential impact of the expanded bailout on its European neighbors.
For now, Moody's said the debt package has the positive effect of "containing the severe near-term contagion risk that would likely have followed a disorderly payment default or large haircut on existing Greek debt."
But going forward, Moody's said it could undermine the ratings of European countries that provide credit to the most fiscally troubled nations in Europe, the so-called "PIIGS:" Portugal, Ireland, Italy, Greece and Spain.
"For creditors of such countries, the negatives will outweigh the positives and weigh on ratings in [the] future," the rating agency said.
The major ratings agencies have warned that any losses by private sector holders of Greek debt would be considered a form of default, prompting worries of a potential market meltdown.
Fitch Ratings was the first to address the issue, saying it would consider Greece to be in "restricted default" and would put a default rating on Greek bonds once investors took part in the plan.
Barclays, a financial services provider based on London, put out a statement minimizing the impact of the Moody's downgrade on world markets.
"We do not think Moody's decision to downgrade Greek government debt ratings by three notches will affect market volatility substantially," said Barclays. "Indeed, we think that after last week's EU summit a downgrade was widely expected."
"Moreover, markets have been reassured that the [European Central Bank] will continue to provide the Greek banking system with the necessary liquidity to guarantee its functionality," Barclays said.
Desmond Lachman, a resident fellow at the American Enterprise Institute for Public Policy Research and a onetime policy adviser at the International Monetary Fund, said that, like Moody's, he is concerned "about the almost certainty that we will see a very large writedown in Greece's soveriegn debt."
"I think that the bailout package did little to allay those fears," he said. "Greece was not offered nearly enough debt relief to make a big difference to its solvency problem."