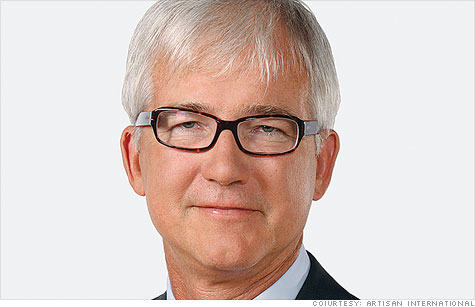 Mark Yockey, manager of Artisan Funds, says cheap, profitable international stocks can be found even in slow markets.
(MONEY Magazine) -- With more than 20 years managing foreign portfolios -- 16 at Artisan Funds -- Mark Yockey is one of the most experienced international investors around.
Yet even he has had difficulty navigating the choppy overseas markets lately. Last year, Artisan International (ARTIX) trailed the broad market in part owing to currency fluctuations and underperforming stocks in Europe.
Still, his value-minded fund has returned 9% annually over the past 15 years, outpacing 97% of its peers. Yockey accomplished that by sifting the world for undervalued shares of firms with great growth potential. He spoke with senior writer Kim Clark.
Analysts say the biggest growth will come from developing countries, but you have little exposure to Latin America, Africa, and smaller Asian markets.
We don't really invest by country. We go wherever we can find growth. Quite strangely, we're finding it in Europe. There are a lot of European companies exposed to Asia. So you can get relatively high-quality management and traditional accounting standards at reasonable prices.
Aren't there still big risks in Europe?
Greece is a mess, and it will have to restructure. Spain will have to restructure its banks. The euro is probably 10% to 20% overvalued and has to go down. But for a lot of our companies, such as Daimler AG (DDAIY), a falling euro will boost sales (Daimler has factories in 17 countries and profits from exporting).
You're also betting on a Canadian railroad. Sure doesn't scream "growth."
There are only two railroads in Canada. Demand is increasing. Even at $3-a-gallon gas, railroads were a better choice than trucks. Canadian Pacific Railway Ltd (CP). has historically been less well run than Canadian National. We think there's some room for Canadian Pacific to be more efficient. If so, its earnings will go up a lot.
A quarter or so of your portfolio is in China or in Hong Kong-based firms. Aren't you concerned about a bubble?
I am in the nonbubble camp. There are 1.3 billion people in China, and their standard of living doubles every five years. China expects 250 million people to move from the country to cities in the next 10 years. That requires roads, infrastructure.
Send The Help Desk questions about international investing.
Your single biggest holding is Sands China, the Macau casino. Why?
Gambling is popular in China, and there's only one place where it's legal to do so -- Macau. So you have limited supply and unlimited demand. Plus, in the emerging markets, you want to invest on the side of what the government is trying to do. China wants Macau to become Las Vegas.
So what happens in Macau stays in Macau?
Yes! I mean, I don't know firsthand. I've heard some stories.