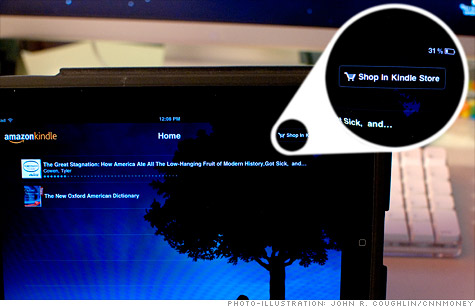 Apple's new App Store rules outlaw links to external websites for purchases -- like the one above, which Amazon has removed from its Kindle iOS apps.
NEW YORK (CNNMoney) -- Nearly one month after Apple's strict new App Store rules kicked in, Amazon and other publishers have finally rolled over.
On Monday, Amazon updated its Kindle apps for Apple devices to remove the "shop" button that sent consumers to Amazon's site to buy digital books.
June 30 was the deadline for Amazon and other app makers to get in compliance with Apple's new mandate for in-app payments and subscription links.
Apple's goal is to steer more of the revenue for content purchases through its own in-app payment system, which typically nets Apple a 30% cut of the sales. Apple laid out the first version of its controversial new rules in February, but then quietly softened them last month after massive blowback from publishers.
Still, the App Store had been threatening to prohibit apps that include "external mechanisms for purchases ... such as a 'buy' button that goes to a web site to purchase a digital book."
The Kindle app had prominently featured a "Shop in Kindle Store" link, which took shoppers out of the app and fired up a Web browser, through which they could search for and purchase Amazon (AMZN, Fortune 500) e-books.
But when the June 30 deadline passed, the Kindle remained in the App Store. Apple (AAPL, Fortune 500) did not respond to a request for comment on why the changes took place Monday.
Amazon would not comment beyond a statement the company posted on an online forum explaining that it made the change "in order to comply with recent policy changes by Apple."
Who else is playing nice with Apple: Amazon is not alone. Other content publishers are also changing their apps to get in line. E-book seller Kobo (of which liquidating bookseller Borders owns a stake) updated its app over the weekend to remove purchasing options.
Barnes and Noble (BKS, Fortune 500) also removed its shop link in an update on Monday.
The Wall Street Journal said Monday that its own app "will soon remove all purchasing options in the app in response to Apple's new rules." The paper's app currently includes an external link for customers to sign up for a subscription.
Meanwhile, the Google (GOOG, Fortune 500) Books app disappeared from the App Store last week. Sony's (SNE) Reader app has been unavailable since February, when Apple booted it because of an external link.
Other publishers have already made updates that play nice with Apple's rules.
Hulu changed its iPad app last month to remove a link to its website. The app's opening screen used to feature the line: "Not a Hulu Plus subscriber? Visit hulu.com/plus to learn more and sign up." That line -- and the website link -- are now gone, bringing Hulu into compliance with Apple's rules.
Some publishers that had previously kept mum on the new rules -- including Conde Nast and Time Inc. (part of Time Warner (TWX, Fortune 500), the parent company of CNNMoney) -- recently struck deals with Apple to make subscriptions available to some of their magazines.
Apple rivals hoping to cut in: Though publishers are starting to acquiesce, Apple rivals are banking on content providers getting fed up.
One day after Apple announced its original in-app purchasing rules, Google unveiled Google One Pass, a service that "lets publishers set their own prices and terms for their digital content." A Google spokeswoman told Fortune the company will take only 10% of the revenue.
Hewlett-Packard is making its own bid for content publishers. HP's (HPQ, Fortune 500) TouchPad tablet, which went on sale July 1, launched with a subscription offering for four of Time Inc.'s titles: Time, Fortune, People and Sports Illustrated.