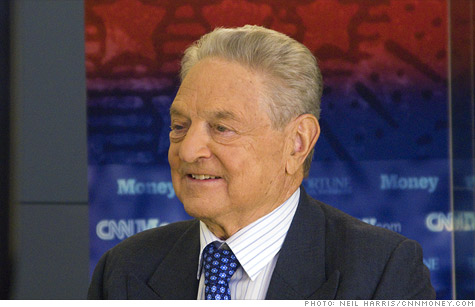 The hedge fund founded by George Soros will no longer accept money from private investors.
NEW YORK (CNNMoney) -- Soros Fund Management, the hedge fund founded by billionaire investor George Soros, has officially closed its doors to outside investors, according to a letter to clients Tuesday.
The fund's Quantum Group will complete its transition to a "family office" ahead of regulatory changes due to take effect early next year that could result in increased scrutiny for hedge funds that manage money for private investors.
As part of the change, the fund will return $1 billion to private investors by the end of the year, according to a person familiar with the matter. That translates to about 3% of the $25 billion the fund has under management.
Keith Anderson, the fund's chief investment officer, will step down.
The fund "remains committed to its goal of producing superior returns for its clients and will continue to conduct its business to the highest standards of the industry," the letter states. "Going forward, however, our investment advisory services will only be available to Soros family accounts and related entities."
The transition has been in the works for over ten years, according to the letter. It said the fund has "effectively operated as a family office" since Soros announced in 2000 that the flagship Quantum Fund would become an endowment.
The fund was able to accept funds from outside investors using exemptions from rules that require private investment advisers to register with the Securities and Exchange Commission. But those exemptions will no longer be available starting in March 2012.
Soros Fund Management has invested private capital for nearly 40 years. The fund is active in markets around the world, trading assets such as stocks, currencies and commodities.
George Soros, the fund's founder, is best known for his bold bets in the currency market, including a 1992 trade against the British pound that won him an estimated $1 billion.
He has also gained notoriety in recent years for his support of liberal causes, such as a $100 million donation to Human Rights Watch announced last year.