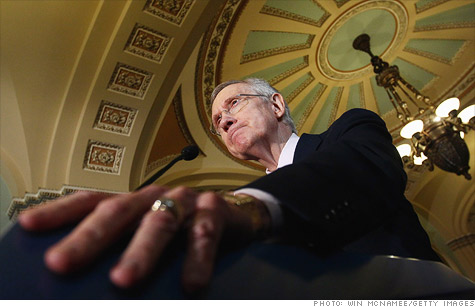 The Congressional Budget Office says Sen. Harry Reid's debt ceiling bill would cut deficits by $2.2 trillion over ten years.
NEW YORK (CNNMoney) -- First the House debt ceiling bill came up short. Now it's the Senate bill.
The Congressional Budget Office on Wednesday said the proposal by Senate Majority Leader Harry Reid, which would raise the debt cap by $2.7 trillion, would reduce deficits by $2.2 trillion.
That means Reid's legislation -- currently the only Democratic alternative to the Republicans' plan -- doesn't meet the GOP demand that spending cuts exceed any increase in the debt ceiling.
The public divide between the parties over how to raise the debt ceiling before Aug. 2 was already wide. The CBO report won't narrow it.
The Senate Democratic Leadership Office said the CBO analyzed the bill's "first draft" and that more cuts are planned. "The final version of the Senate plan will achieve even deeper savings when it is filed on the floor," according to a statement.
In terms of spending, the CBO estimates that the Reid plan it was given would cut $1.8 trillion.
But that's because the Reid plan takes credit for cutting $1 trillion in war spending in Iraq and Afghanistan. Those savings can only be claimed if one assumes the U.S. engagement there will continue at full throttle for the next decade.
More narrowly, the caps on other discretionary spending would cut $751 billion, plus an estimated $375 billion would be saved on interest owed on the country's debt.
On Tuesday evening, the CBO said it estimated that House Speaker John Boehner's debt ceiling bill would initially reduce deficits by $851 billion over 10 years.
That is less than Boehner's office had originally estimated. Consequently, Boehner is rewriting his debt ceiling legislation to ensure that it meets his oft-stated pledge to cut spending more than Congress increases the federal borrowing limit. Boehner's original bill would have allowed for an immediate debt ceiling increase of $900 billion.
The truth, however, is that neither Reid's bill nor Boehner's currently has a chance of passing both the House and the Senate. That means the two chambers will need to work on a compromise bill. And soon, since there are only 6 days until Aug. 2.
The debt ceiling must be raised by then, when the Treasury Department estimates it will no longer be able to pay all its bills without borrowing.
The House is scheduled to vote on the revised Boehner bill on Thursday at the earliest. It's not clear yet when or if the Senate will vote on Reid's bill.
-- CNN's Ted Barrett contributed to this report