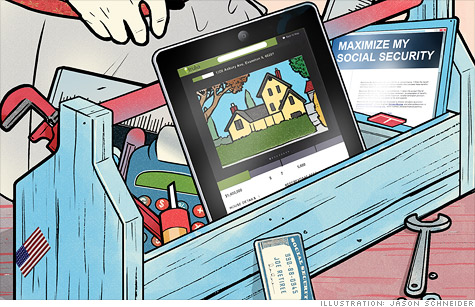 (MONEY Magazine) -- Make sure you know how much money you'll really need to retire comfortably by using these three tools.
1. See if you're on track
The task: Want a better shot at wealth? Run the numbers. A recent study by HSBC found that people who planned for retirement had five times the assets of those who didn't.
The tool: GuidedChoice's QuickAdvice Tool
What it does: This top-notch new entry into the crowded field of retirement calculators comes from the 401(k) advisory firm co-founded by Nobel laureate Harry Markowitz.
The QuickAdvice tool has the same heavy-duty software used by 1.5 million 401(k) participants, but it's simpler to use.
What's best: Instead of a single projection, you'll get estimates of your after-tax monthly income if the markets are hot, cold, or lukewarm in the coming years.
2. Boost Social Security
The task: For couples, getting the most out of the system is no simple process. When should each of you collect? What's "file and suspend"? The wrong choice could cost you tens of thousands of dollars over your retirement.
The tool: Maximize My Social Security
What it does: You enter variables, such as your past and future earnings and expected life span, and this hard-core calculator from Boston University economist Laurence Kotlikoff singles out your best benefits strategy ($40 a year).
3. Find your new home
The task: Be it for warmer climes, a lower cost of living, or proximity to grandchildren, nearly a third of older boomers surveyed by homebuilder Del Webb plan to move in retirement.
Send The Help Desk your retirement questions.
The tool: Trulia Real Estate Search for iPad
What it does: A house hunt is easier on a tablet's large screen than on a smartphone. The new iPad version of Trulia's home shopping app lets you browse listings and see recent price drops. Neighborhood maps include nearby grocery stores and restaurants.