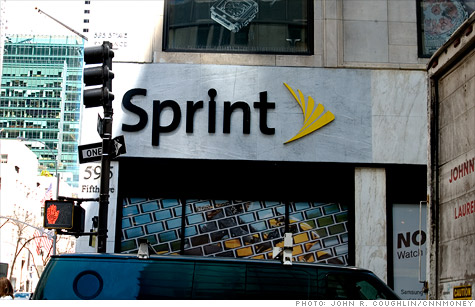 NEW YORK (CNNMoney) -- Sprint is losing its most valuable subscribers to its biggest rivals. Shares are plummeting. And its once-leading 4G coverage is getting passed by.
Time for the Hail Mary pass.
That move came Thursday in the form of a $9 billion partnership agreement with fledgling 4G wholesale provider LightSquared.
Sprint will license some of its unused wireless frequencies to LightSquared, which the wholesaler will use to deploy its 4G network. In turn, Sprint will be able to buy back some of the 4G services that LightSquared provides to offer to Sprint customers.
The move couldn't come soon enough, as Sprint's current strategy clearly isn't working: Sprint said Thursday it lost another 101,000 wireless customers that are under contract in the second quarter. The company also reported a financial loss of $847 million. Shares of Sprint (S, Fortune 500) tumbled 17%.
Sprint's customer losses have slowed, but the company is still losing ground in the fiercely fought wireless market. AT&T added 331,000 contracted customers and Verizon netted 1.3 million. The top two wireless providers both recorded billions of dollars in profit last quarter.
Currently, Sprint offers 4G services via a company it part-owns called Clearwire (CLWR), shares of which plummeted 18% on Thursday.
Through its Clearwire partnership, Sprint became the nation's first wireless provider to offer 4G-branded service, which promising speeds about 10 times faster than 3G.
Its first 4G phone, the HTC Evo 4G, went on sale in June 2010, five months before T-Mobile rebranded its service as "4G" and 10 months before Verizon started selling its first 4G phone.
Despite that strong head start, Sprint has been overtaken by its rivals. Clearwire has repeatedly failed to meet its expansion targets, and Verizon's (VZ, Fortune 500) 4G network now reaches 160 million potential customers, a third more than the 120 million that Sprint serves.
If AT&T's (T, Fortune 500) merger with T-Mobile is approved, the combined company would pass Sprint by in 4G customers served in a matter of a few years, according to AT&T's deployment plans.
Another problem Sprint faces is that it appears to have bet on Betamax when everyone else is going with VHS. Clearwire's 4G service operates on a standard called WiMAX. But Verizon, AT&T, and pretty much every other mobile provider in the world has chosen a different 4G technology called Long Term Evolution, or LTE.
That means cell phone manufacturers have to purchase a special chipset and radio to operate on the Sprint network.
LightSquared uses the LTE standard, so its partnership with Sprint presents significant cost savings and opportunities for both companies: For LightSquared, the wholesaler can deploy its mobile broadband network nationwide even faster than it had previously announced.
For Sprint, the deal will significantly cut the amount it needs to invest in new network infrastructure while giving it a path to getting a portfolio of devices that operate on what appears to be a new global wireless standard in LTE.
So long, Clearwire, and thanks for all the fish
"While the deal doesn't close the door on Clearwire, it offers an exit path for Sprint, and it's going to compel Clearwire to raise its game in competing for 4G subscribers," said Dan Hays, telecom consultant at management consulting firm PRTM.
Abandoning Clearwire right now wouldn't be feasible for Sprint. But Sprint could use its LightSquared deal as a stepping stone to building out its own LTE network, which would ultimately make Clearwire irrelevant: Sprint could quickly get on the LTE bandwagon and slowly deploy its own service, utilizing LightSquared's network for additional capacity.
Clearwire has been contemplating switching to LTE. But starting from scratch could prove costly, and the company is already unable to invest properly in the resources it already has.
It's possible that Sprint could keep its Clearwire-WiMAX network, and operate two different 4G networks. That would make both networks more efficient and a bidding war between Clearwire and LightSquared could perhaps lower costs to consumers, Hays speculated.
But such a move is unlikely, since it presents the same challenge Sprint already faces: Its devices would be among the few in the world that operate on a standard that hardly anyone uses, and the quality of its cell phone lineup could suffer.
Sprint's deal with LightSquared presents a host of opportunities for the struggling wireless provider. But in a game that's quickly slipping away from it, Sprint better hope it scores a touchdown.