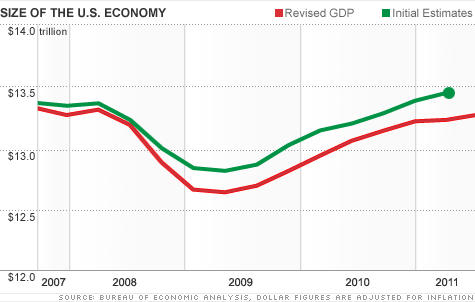 As portrayed by the red line, the U.S. economy plunged 5.1% during the recession. Originally, the government had estimated only a 4.1% drop.
NEW YORK (CNNMoney) -- The depths of the Great Recession were even greater than originally reported -- by $131 billion, to be exact.
According to new data released by the government Friday, U.S. economic output plunged 5.1% from its height at the end of 2007, to its trough in mid 2009.
The Commerce Department had previously calculated a 4.1% decline.
In dollars, the math shows the U.S. economy lost $685 billion during that time, compared to $554 billion previously reported.
Those new numbers come as the Commerce Department revised its economic data back to 2003 on Friday.
Based on the new data, the economy still has to grow by another $56 billion, before the United States has fully recovered all the economic output lost during the recession.
While that would have been an easy feat when the recovery was picking up pace just a few quarters ago, economic growth has recently slowed to a snail's pace.
The economy grew by only $12 billion, or 0.4%, in the first three months of the year, and $42 billion, or 1.3%, in the second quarter.