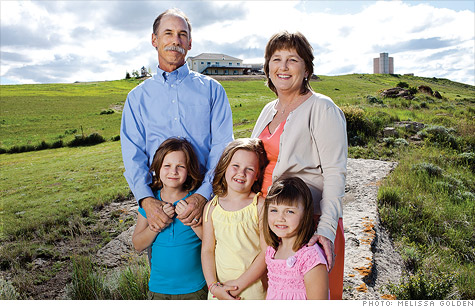 Debbie and Roger Bruse from Gillete, Wyo. want to retire at the same time they'll be paying three college tuition bills.
(MONEY Magazine) -- Most parents struggle to balance saving for retirement with saving for college, but for Debbie and Roger Bruse, ages 47 and 54, those dueling demands are particularly pressing.
The couple, who were already in their forties when their children were born, are determined to semi-retire in 2024 (at age 60 and 67, respectively) -- the same year their daughter, Sophie, now 5, will graduate from high school and their 7-year-old twins, Katie and Maggie, will be college juniors.
While the Bruses don't plan to foot tuition in full for their girls, they'd like to cover at least half. "But can we have it all?" asks Debbie, an engineer for a large mining company.
Their combined income of $165,000 -- Roger works in mine operations for the same firm -- has allowed the couple to amass $770,000 for retirement and buy three rental properties.
At the pace they're saving in their 401(k)s -- $21,500 a year, with a $12,000 match -- plus Social Security benefits, they should be able to retire comfortably in 13 years, says Casper, Wyo., financial planner Connie Brezik.
But they have yet to start saving for college, and they're hobbled by $25,000 in credit card debt. Still, Brezik thinks the Bruses can have it all.
The solution
1. Clean up the balance sheet.
Paying down their credit cards and building an emergency fund (at least $30,000) should be a priority.
If the Bruses temporarily halt 401(k) contributions and put that money toward their cards, they could be debt-free in about a year, Brezik says.
And the hiatus won't affect their retirement timetable much. Saving their annual bonus, plus belt-tightening, will help plump up their rainy-day fund.
Ask The Help Desk your personal finance questions.
2. Save strategically.
Despite their income, "with twins, they have a shot at financial aid," says college planning expert Ray Loewe.
To preserve their chances, the Bruses should save for college via a 529 plan -- a tax-free college-saving account that is counted minimally in aid decisions. They should aim to put away at least $600 a month.
3. Trade houses for degrees.
The income from the Bruses' three rental properties near the Black Hills of South Dakota just covers their costs.
Brezik suggests selling two of the homes (they plan to retire to the third), which should net them about $75,000. Adding those proceeds to the 529s should enable the couple to meet the goal of covering half of their girls' college bills.