Saving for college and retirement on 1 income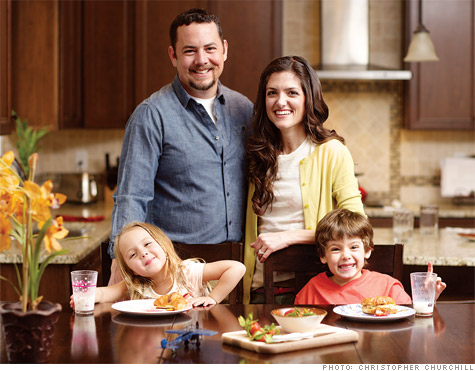 (MONEY Magazine) -- When the Fleigs moved from California to Ohio in 2004 for Chris's job as a paper salesman, the lower cost of living allowed Tina, formerly a finance director, to become a stay-at-home mom. (They have two kids, Bailey and Jake, now 3 and 6.)
The clan relies on Chris's $75,000 salary and the $10,000 Tina brings in from freelancing, but they also tap Chris's bonus -- which ranges from zero to $50,000 -- for preschool and property taxes.
"It's hard to pay all that with just the salary," says Tina, 35. And while Chris, 36, manages to put 6% of pay into a 401(k) for retirement, the couple have barely saved for college, even though they'd like to cover their kids' tuition at a public university.
See also: How to rebalance your portfolio.
Ideally, the Fleigs would pump up savings on both goals, says Dayton financial planner Doug Kinsey. But given that they'll have only one income for the next four years -- until Tina goes back to work -- they should use this time to focus on college, the nearer-term cost. They can turbocharge retirement savings when she rejoins the workforce.
The solution
1. Budget minus the bonus.
"Since the bonus is unpredictable, don't rely on it," Kinsey says.
He'd like the Fleigs to keep costs within Chris's salary, including saving $2,500 per child per year into Roth IRAs for college. (To free up cash, they can use part of this year's $35,000 bonus to pay off their car loan.)
Roths can be tapped penalty-free for college, and will give them more flexibility than a 529, allowing them to change their minds and use the money for retirement if needed.
2. Save more in good years.
When Chris does get a bonus, this year included, they can bump college savings to at least $5,000 per child.
If they save $9,000 for each -- which may be possible if he has a great year, and will be easier with Tina working -- they can fully fund public school for both kids.
3. Plan to ratchet up retirement.
At their current contribution rate, Chris will be 70 and Tina 67 before they've saved enough to maintain their standard of living in retirement.
But if they start maxing out Chris's 401(k) when Tina goes back to work, they'll be able to quit at 66 and 61.
Goals
Retire at 60 and 65
Fund state college for their two children
Assets
$180,000 for retirement
$18,000 in liquid savings
$1,500 in a 529
Liabilities