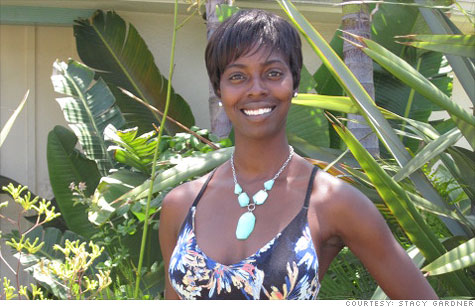 Although she has cut back significantly on spending, Stacy Gardner allowed herself one small "splurge" -- a $13 dress from Macy?s.
NEW YORK (CNNMoney) -- Stacy Gardner works as a shopping concierge at a Los Angeles mall, and not only has work slowed, but her own typically insatiable desire to shop has deteriorated as well.
"There's always the temptation to buy something and I love clothing," she said. But since the start of the summer -- when dire economic news started dominating the headlines -- Gardner says she feels an overwhelming unwillingness to spend.
"I am not shopping, I will only travel if I can find a ticket for $200 or less from L.A. to anywhere. And when it comes to grocery shopping, if it isn't on sale I'm not buying it," she said.
In the midst of a debt-ceiling crisis, consumers like Gardner are rightfully wary.
Ongoing economic uncertainty has put a stranglehold on hiring and the unemployment rate is a daunting 9.2%, further depressing consumers' willingness to splurge on even small discretionary items -- from a cup of Starbucks to a new shirt.
Consumer spending, which accounts for a bulk of our gross domestic product, picked up only 0.1% in the second quarter, a significant decline from its pace during the first three months of the year, the Commerce Department said Friday.
"Our own frugality is causing the economy to remain sluggish but we're all trying to protect ourselves," explained Kelley Long, a Chicago-based financial coach and CPA.
"We have to be out shopping for companies to feel more comfortable about hiring, but we can't shop if we're worried about the economy," she said.
And the repercussions are felt across the board. Personal income fell in May. Meanwhile, retail sales rose just 0.1% in June, according to the latest data from the Commerce Department.
Analysts also predict a largely lackluster back-to-school shopping season to come. For Cory Andrews, that means only buying the back-to-school necessities for his two children, ages 7 and 5. "There are things that you have to get, so we're just trying to find the best deals we can."
That's a particularly tough prognosis for retailers that rely on those sales to boost revenue during the sluggish summer months.
"The problem is that the economy doesn't have any momentum," said Robert Brusca, chief economist at Fact and Opinion Economics. "Given enough time the economy will start to grow on its own, but that's a very slow process."
For shopaholics who are trying to curb their spending ways like Gardner that may feel like an eternity. For her, frugality is an ongoing challenge. "There are pockets of down time when I think about buying something," she said. "It hurts."
Are you in extreme debt and can't pay your bills? E-mail Erica.Fink@turner.com if you'd like to be included in an upcoming CNNMoney story or video. Please indicate in your e-mail if you're interested in being in a video.